Housing beneficiaries should be employed to help build their own houses – and to secure the construction sites.
This was suggested by Sub-council 23 chairman and Strandfontein ward councillor Elton Jansen at a public meeting outside at Portland Indoor sports centre on Saturday April 10.
In addition to creating unemployment, he said, this would also help secure the sites from gang violence and vandalism, which are preventing development on site.
Housing remains a hot topic in Mitchell's Plain and last year more than 1000 people attended a housing meeting at Lentegeur civic centre on Saturday February 8 last year.
Last year people who attended housing public meeting in Mitchell's Plain proposed that the City of Cape Town alert beneficiaries to have their unemployed family members work on the Beacon Valley Housing Project.
At the time, City housing official Benjamin van der Ross said if housing waiting list applicants had Mitchell's Plain registered as their address in the past four months, when beneficiaries were considered, they could benefit from the project.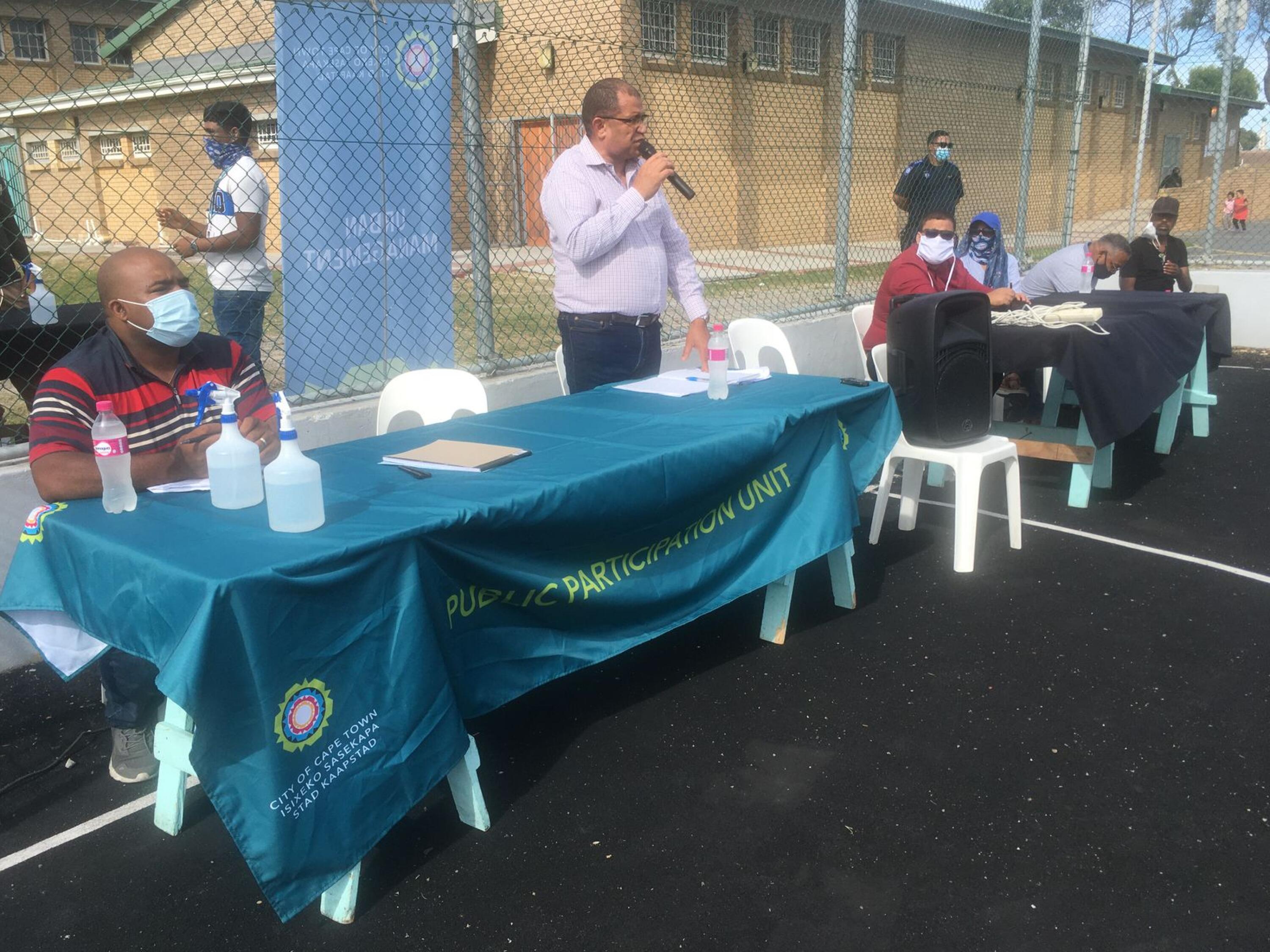 On Saturday, Mr Jansen echoed these sentiments, saying: "Check who is unemployed and let them work. They are getting a house and they form part of the unemployed team, who are going to build their own homes and would be safe guarding the project."
Saul Markgraff, from Portland, seconded the proposal and said that the City should "stop wasting the public's time".
He said the meeting had been attended by hundreds of hopefuls, not all of whom would be receiving a house, and suggested the City rather meet only with the project beneficiaries.
"You know who of the 1 800 people would qualify for a house. Why not just call them in and speak to them instead of giving people false hope?" he said.
Mr Markgraff said three public meetings were scheduled to take place in Tafelsig, The Farm and Portland.
He said the Tafelsig meeting had been cancelled and there were no officials explaining the situation to those wanting to attend.
The R95 million Beacon Valley Housing Project in Mitchell's Plain is expected to provide 1 809 breaking new ground (BNG) housing opportunities to qualifying Mitchell's Plain beneficiaries.
Heavy-duty machinery was destroyed when a petrol bomb exploded after midnight on Friday July 31 last year, at the Swartklip Road construction site – one of three sites that make up the Beacon Valley Housing Project.
Several hours after the attack on the digger, there was a protest by about 100 people at the project's Highlands Drive site in Montrose Park, about 1km away from the Swartklip Road site.
On Saturday Douglas Norman, programme manager for City housing delivery, said the development at the project had been hampered by gang violence.
"Bullets fly across the site," he said.
He also said that it would take months if not a year to confirm the housing project beneficiary administration process.
Mr Norman reiterated that only people registered on the Sub-council's database would be employed.
The City confirmed that there were public meetings about the Beacon Valley Housing Project at the sports centre and at the Farm Recreation Centre.
The meetings were split between two venues to allow all interested members of the public the opportunity to attend, while observing all Covid-19 health and safety protocols; and to provide feedback to the community about the project.
In response to a Plainsman enquiry, the City said it only considered members of the public who had registered on their sub-council database for employment at projects. The City is in the final stages of the project's administration process and will communicate with the successful applicants once all necessary processes have been finalised.
Abieda Abdurhaman, from Tafelsig, who attended last year's meeting, said she had been on the housing waiting list for more than 20 years.
Holding back tears she said it was tough moving from house to house, renting and not owning a home, where she could keep her family together.
"Nothing is going on. I am still moving around. Every time there is a meeting but never a house," she said.