Parental support was a key factor in ensuring a successful matric class of 2022.
Pupils and principals paid tribute to their partners in learning and teaching during the announcing of the national senior certificate (NSC) results on Friday January 20.
Spine Road High School matriculant Aeysha Abbas, 18, from Westridge – with the second highest aggregate at the school and the only pupil with seven distinctions – dedicated her achievement to her parents Faizel and Faiza.
She thanked her teachers and classmates for their support and especially her parents for being by her side.
"If it wasn't for my parents I would not have done so well. They helped me through mental breakdowns and self-doubt. They supported me through everything just so. Wow," she said.
Ms Abbas said it was a hectic year for them as they had to deal with their own emotional strain due to Covid.
"I am extremely proud. She did extremely well. I never expected seven distinctions. We feel honoured to have raised a daughter with a good head on her shoulders. She has set and gone beyond achieving her goals," she said.
She said that they put God first and thank Him for not allowing their children to go astray.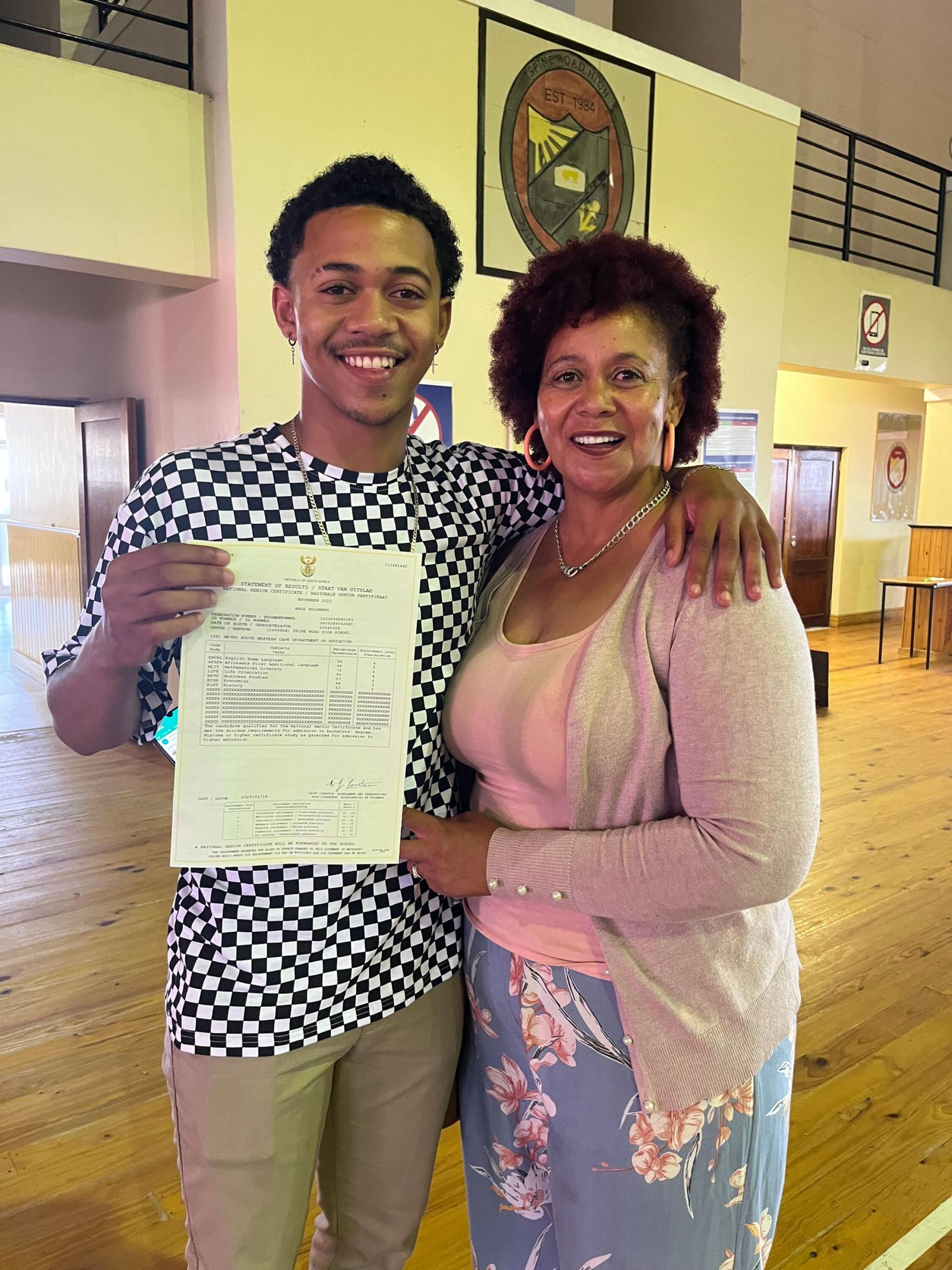 Her classmate Wade Solomon, 19, from Montrose Park, thanked his mom Wendy, his dad Captain Raymond Solomon, who is Mitchell's Plain police station's sector commander for sector 1 (Town Centre and surrounds), his teachers and everyone who supported him.
"I passed, thank you mom," said Wade to his mother shortly after receiving his results, with his dad having had to return to duty by that time.
To his classmates who did not make it, he said: "Don't give up. You can do it. You can always try again."
Spine Road High principal Mark Fairbairn said the school has a pass rate of 99 percent (208 of 210 pupils passed) with 84 percent (177 pupils) achieving a Bachelor's pass, allowing them to attend university.
He said that education was a partnership between the teacher, pupil and parent or guardian, each one supporting the other.
Darul Arqam principal Sheikh Ebrahim Dawood was ecstatic with their result of 98.1 percent (106 out of 108 matriculants passed).
He said the pupils had faced quite a few challenges over the past three years.
"We had a number of learners who were at risk of failing but we put the necessary interventions in place.
"This was one of our weakest groups but we are very happy for this result," he said.
Sheikh Dawood said they had many meetings with parents. "We called parents in to assist us and we gave them guidelines on what the learners have to do at home and they helped a lot," he said.
In 2020 the Eastridge school achieved a 100 percent pass rate ("Mitchell's Plain's top class of 2020", Plainsman, March 3 2021).
He said that once a school achieved this anything else pales in comparison but that social context was important.
"Especially now in this case with Covid-19. I think they did really well now that things have stabilised. We've done really well over the past three years," he said.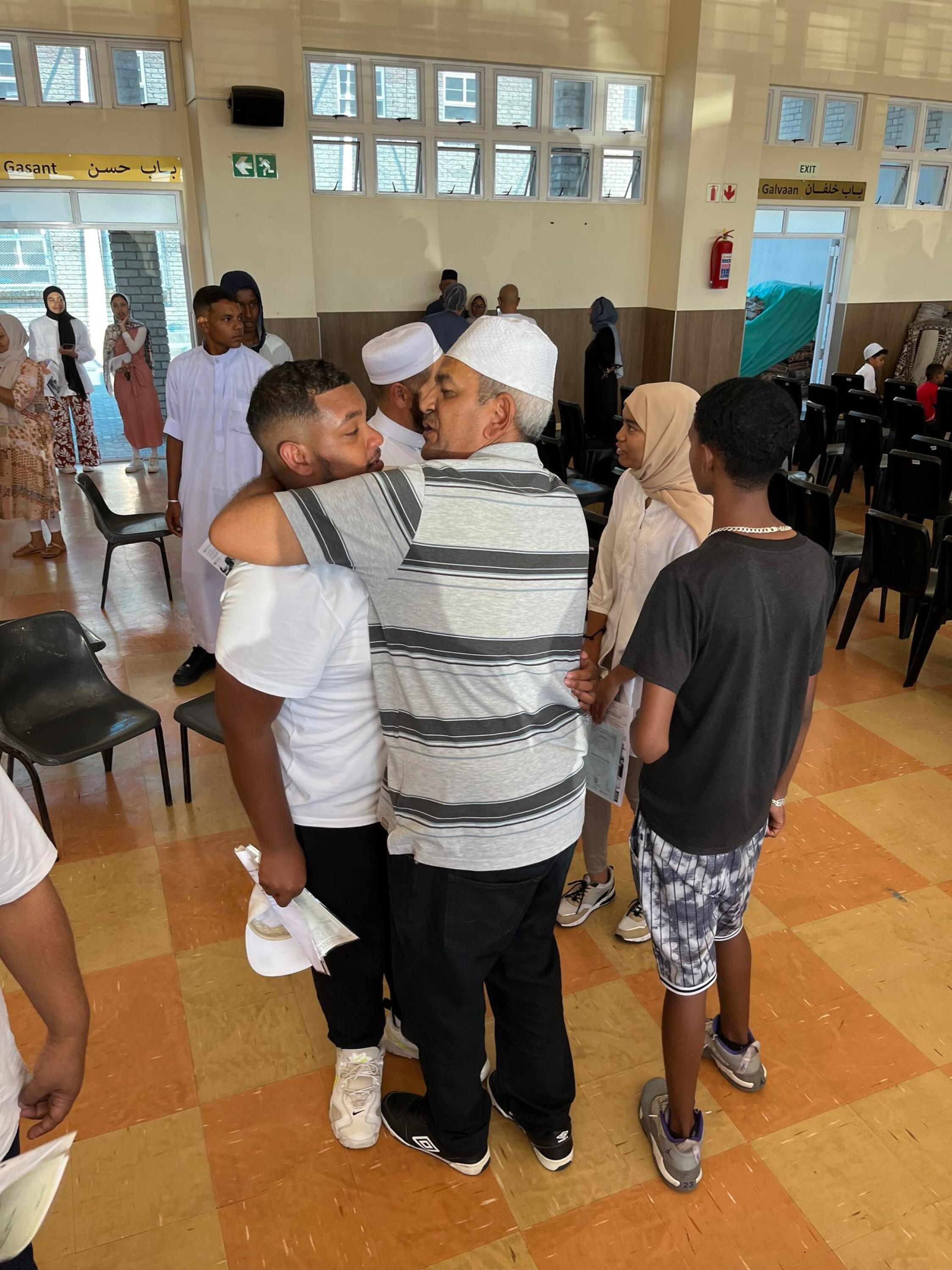 Matriculant Moenier Lawrence, 18, from Lentegeur, cried as he hugged his dad Jalliel Christians, from Searidge Park in Tafelsig, after receiving his results.
Mr Christians said he was very proud of his son and his daughter Ameerah, 18.
"They had it in them … the perseverance; we had to scold at him but it all paid off. Ameerah is a self-driven child, we had to scold her to go sleep rather than to study but we had to push him. Motivate him but all praise is due to Allah that they made it through," he said.
Glendale High School principal Cathy Davids said the past three years was a struggle because some parents had forgotten how to parent.
"We are teaching adults as they are living adult lifestyles," she said.
She listed the challenges, namely teen pregnancy, absenteeism, poor nutrition, pupils smoking dagga and school having to compete with pupils' "party attitudes".
Five matriculants gave birth during their final year at the Rocklands school.
The school fees is R2 800 per year, which can be paid off over the year until October and yet some of the Grade 12s' parents had not paid school fees since Grade 8.
"The debt for Grade 12 was at R1.2 million. Yet, you have the same parents who did not pay school fees holding fund-raisers for private matric balls," she said.
Ms Davids said education was not a priority in some homes and that this was spilling into the school.
She said the teachers were working exceptionally hard but that parents needed to bring their part.
"There are exceptions where our pupils did very well. They had a good work ethic, they took responsibility for their education and their environment at school was conducive to learning," she said.
Ms Davids said they had to teach some children basic etiquette, for example covering their mouths when yawning.
"Many families were affected by Covid-19, many parents lost their jobs and our kids do not get a decent meal. They mostly eat staple foods which affect the development of the brain.
"The other challenge is dagga," she said, with teachers having to teach a child who is high. "Parents ask us what is the problem with their child smoking dagga. Their brains are not fully developed," she said.
"We need to get our parents to realise they have a role to play in the future of the Mitchell's Plain community and the youth of today," she said.
• Mitchell's Plain matric results:
– Spine Road High School 99%
– Darul Arqam Islamic High School 98.1%
– Mondale High School 96.6%
– Rockland High School 92.8%
– Portland High School 89.8%
– Glendale High School 80.9%
– Strandfontein High School 84.6%
– Oval North High School 88.5%
– Woodlands High School 73%
– Princeton High School 72.8%
– Cedar High School of the Arts 71.7%
– Westridge High School 72.4%
– Tafelsig High School 68.2%
– Aloe High School 67.8%
– Beacon Hill High School 66.9%
– AZ Berman High School 65.2%
– Lentegeur High School 53.5%