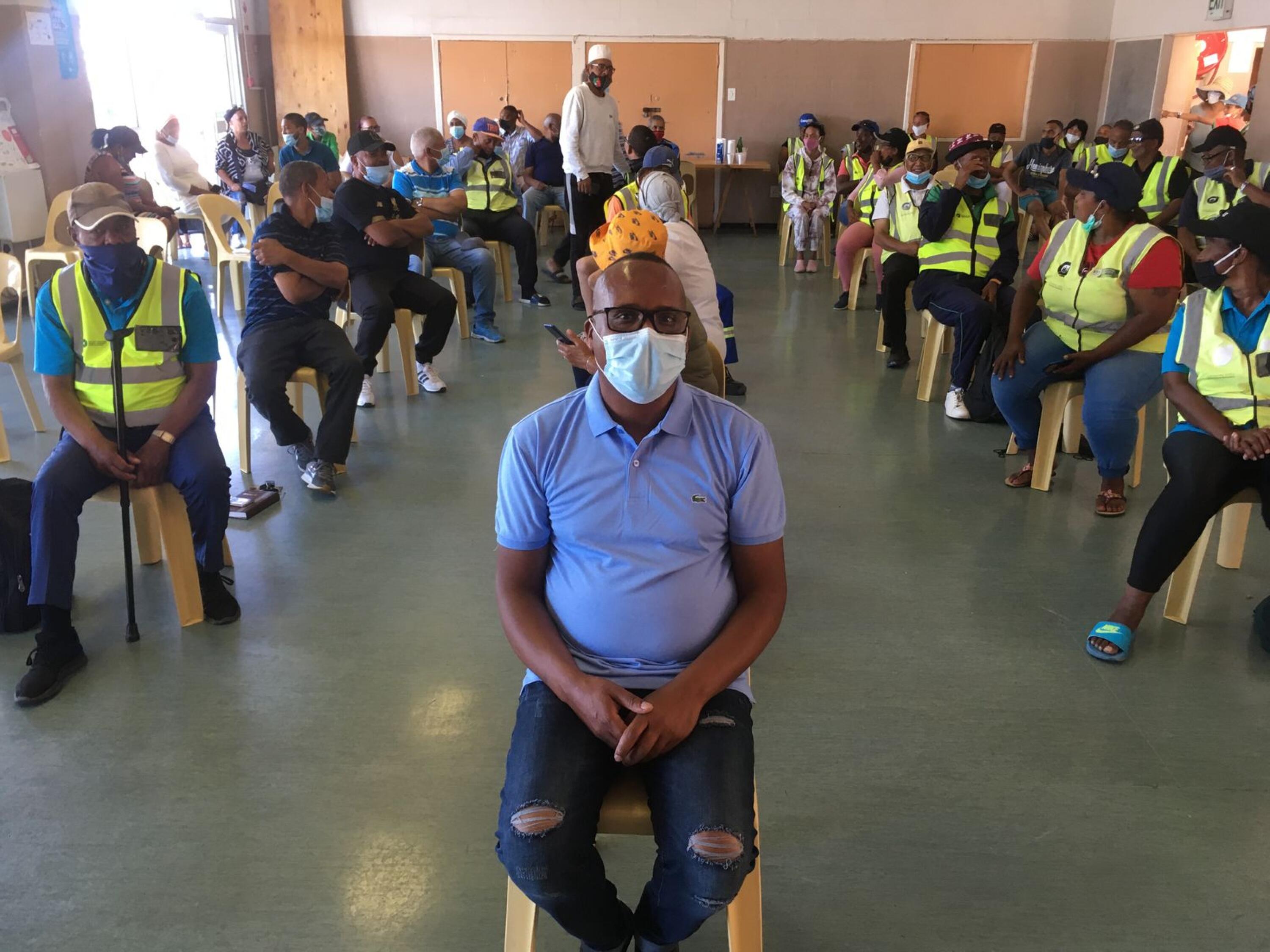 Tafelsig residents and community workers had a casual chat with newly elected councillor Norman Adonis.
At this coffee with the councillor date at the Olifantshoek community hall on Thursday December 9 he said it was not a complain session but rather an opportunity to strategise the way forward.
"I'm the councillor. I cannot do it alone," he said.
"I want us to get to know each other, (rather) than (at) a fire or murder scene.
"This is where my ward office, whatever you need, you come here, to the satellite office in Eastridge or at Swartklip road," he said.
"If you have issues with me, speak to me
"I'm not going to erect a park. You're not looking after the parks. Our parks are being vandalised by our own people," he said.
Mr Adonis said he was born, raised and lived in the community, which he knows like the back of his hand.
Ward 92 is bordered by AZ Berman Drive, Huguenot Avenue, Swartklip Road and Imperial Street, including Old Eastridge and Old Tafelsig.
Today, Wednesday December 15, the City of Cape Town will decide on a proposal to amend sub-council boundaries following the recent local government elections on Monday November 1.
Residents will have until mid-January to comment on the City's sub-council boundaries proposal.
A multi-party committee, appointed by Mayor Geordin Hill-Lewis, submitted six proposals of how the 116 wards in the City of Cape Town should be clustered together to best decide on budget allocations and priorities.
The decided sub-council demarcation proposal will then be put out for public participation.
Residents will then have to comment on whether Mitchell's Plain is split across two or three sub-councils.
Before the elections, Old Tafelsig formed part of Ward 99, which was run by an ANC councillor, who attended and reported to the Khayelitsha sub-council.
All councillors are assigned to a sub-council and serve either as elected ward councillors or as proportional representation (PR) councillors who are deployed by their political party.
Mr Adonis encouraged residents and community workers to submit their organisation profiles, to join the ward committee, representing members from various sectors, including feeding schemes, safety and security, sports, arts and culture, faith-groups and health.
"We need each other for the next five years," he said.
The Integrated Development Plan (IDP) for the City of Cape Town is the strategic framework for the municipality to deliver on its strategic objectives.
Mr Adonis called on parents to keep an eye on their children's cellphones to avoid them going missing, being lured to meet strangers or run away.
"Give them a sense of belonging," he said.
He also encouraged residents to insure their properties to avoid loosing their belongings and left with only their clothes on their backs when disaster strikes.
He implored residents to be aware of fire dangers, putting out fires and candles before sleeping and keeping fires away from wood-and-iron structures.
Community leader Mogammet Fazloodien said they would work well together for the improvement of municipal services in Tafelsig.
Vernon Fortune, Hyde Park neighbourhood watch chairman, asked that Mr Adonis directly inform organisations of meetings rather than via general WhatsApp group messages.
There was also a request that Mr Adonis ask the newly elected mayor whether the walking bus project would continue, as founder and former mayor Dan Plato was no longer in council.