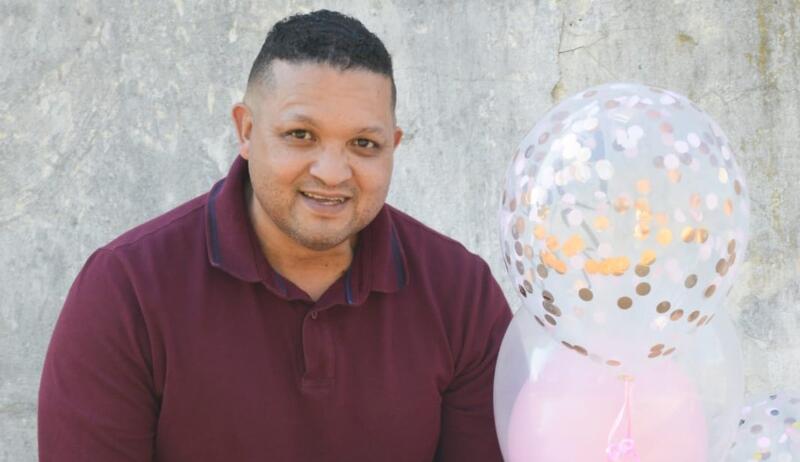 A man of great stature – figuratively and literally – a man who knew what he wanted out of life.
This was how those who knew Cornflower Primary School teacher Cornelius Malgas, 48, who died of Covid-19 complications at Karl Bremer Hospital on Tuesday January 5, described him.
Celebrating his life during a drive-by memorial at his home in Kuils River on January 6 and at his funeral at the Ebenezer Congregational Church in Kuils River on Friday January 8, family and friends said his death came as a shock.
Cornelius was a bubbly person, he was always happy and lit up a room when he walked into it, said his wife Ronalda Malgas.
Ms Malgas said her husband's oxygen levels dropped while in hospital. "I didn't see him in person before he died, but I got to video-call him. I was so happy – I at least got to see him via video-call, yet I didn't get to say goodbye in person…" she said.
She said it's difficult to put in words the experience of losing someone to Covid-19, not being able to see them in person is the most challenging part.
Mr Malgas was a family man, a loving husband, a great father, said Ms Malgas.
Mr Malgas, former regional manager for the provincial Department of Sport and Cultural Affairs, loved sport and was an athlete himself. He took part in sport at school, with some injuries but he loved it anyway, said Ms Malgas.
He was also a part-time radio host at West Coast Radio, with a very big CD collection.
On Saturday mornings he would go out for a jog, he was very active and busy, Ms Malgas said.
"He had so many future plans, new ideas, he always wanted to do more. It's a pity that he is no longer here to fulfil them," she said.
Ms Malgas said her husband wanted their son, who is going to Grade R this year, to join the tennis academy, as it was close to their son's school. He was going to join it too, she said.
He will be missed by so many, she said. "He was my pillar of strength with a positive outlook on life. He never spoke bad of anyone, and he always had a smile on his face," she said.
Colleague Sonja Moodie, who journeyed with him during his sports career, said he had endless positive energy. He was always optimistic, seeing the glass half full and never empty, always had a plan B, ready to assist anyone who needed a helping hand, she said.
"What stood out was his endless love for children. He was gifted to work with them, treating them as individuals and always had enough love to share among hundreds of them," said Ms Moodie.
Family and friends said they will miss his smile that always reached his eyes, his enthusiasm, spontaneity, his laughter, his genuineness. His neatness and order in all spheres of his life.
Principal of Cornflower Primary School, Cloretta Ontong, said Mr Malgas started at the school in June 2019 in a substitution position for Grade 6.
His last date of service was Tuesday December 15. "On that day we had a Christmas celebration and he sang a beautiful song to the staff. For the two years he was always willing to assist anywhere where needed," she said.
He was going to serve on the sport committee, he was well-known in the sporting fraternity, but because of Covid-19 it could not happen, she said.
"He was always full of bright ideas of how to move the school forward. He had a heart for teaching and loved the pupils very much. He had a pupil who didn't attend school during lockdown, he made the effort to contact the parents and convinced them to send the pupil to school. That is the amount of effort he would put into his career. I believe that he really would have been an asset to the school in future," said Ms Ontong.
She said they're going to miss his smile the most. He always had a friendly word or chat with staff members and he would greet up to four times a day with that same smile and hand wave.
Mr Malgas leaves behind his wife, son 5, daughter of four months, his mother, brother and three sisters.