A former Rocklands resident has been sworn in as the MEC for Community Safety and Police Oversight.
Reagan Allen, a DA member of the provincial parliament, takes over from Albert Fritz who was fired in March when a report compiled by Advocate Jennifer Williams found that there was "sufficient credibility" in the allegations of sexual misconduct made against Mr Fritz.
The appointment of Mr Allen, 37, makes him the youngest MEC to be appointed to the portfolio since the dawn of democracy in 1994 ("Comedian takes up seat in provincial legislature," Plainsman, May 29, 2019).
Western Cape Premier Alan Winde announced Mr Allen's appointment at a media briefing on Friday April 21, five days before he was officially sworn in on Tuesday April 26.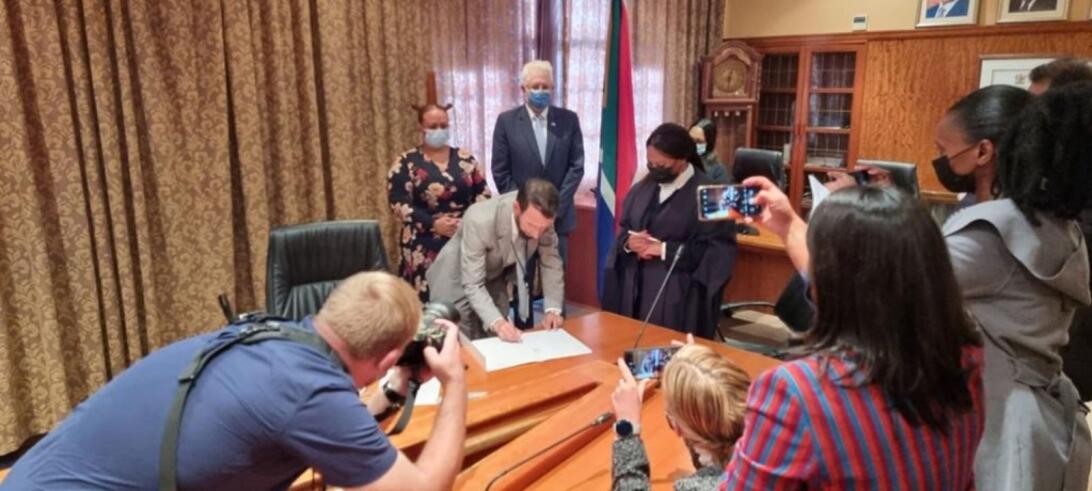 Mr Allen told the Plainsman on Wednesday May 4 that he was looking forward to the huge task that lay ahead of him, as well as playing a key role in implementing a safety plan for the people.
"We want to play a meaningful role in terms of how we effectively make use of SAPS, in looking at how detectives are carrying a huge backlog and case loads of dockets but also how we are able to deal with corruption. It is important to protect and serve," said Mr Allen.
He added that he wants to make sure there are more "boots on the ground".
"I know SAPS are under-resourced. With the safety plan we are making sure that LEAP officers are deployed to crime hotspot areas so that we can add more boots on the ground. We are working hard on implementing the violence prevention plans as too many people are affected by this," he said.
LEAP is an acronym for law enforcement advancement plan, which is a City of Cape Town initiative jointly funded by the Western Cape government.
As a young boy, Mr Allen said, he had been exposed to good mentors which had prevented him from getting involved in crime and other social ills. "I firmly believe it takes a village to raise a child," he said.
He recalls crime having played a major role in his life when he was growing up. When he was a young boy, he said, he recalls running to and from school to avoid becoming a victim of the Station Strangler, a serial killer believed to be responsible for the rape and fatal strangulation of at least 22 boys between 1986 and 1994. He also remembers seeing people look on as a gang leader was killed.
This shapes you, said Mr Allen, and "you have a certain lived experience of crime".
"I wouldn't want to play politics because if I must choose a life or a vote, I will choose a life. I want to make a difference and see how the department can spearhead not only the safety aspect but connect with other departments as well, in terms of violence prevention, opportunities and development, to name a few."
Mr Allen is on a mission to make sure the safety plan is implemented, to foster relationships between CPFs, neighbourhood watches, SAPS, political parties and also to hold them accountable and make recommendations in the best interest of the Western Cape. He also wants to see how they can better address the safety needs of the province and, importantly, co-ordinate the approach across different portfolios with the Western Cape and society.