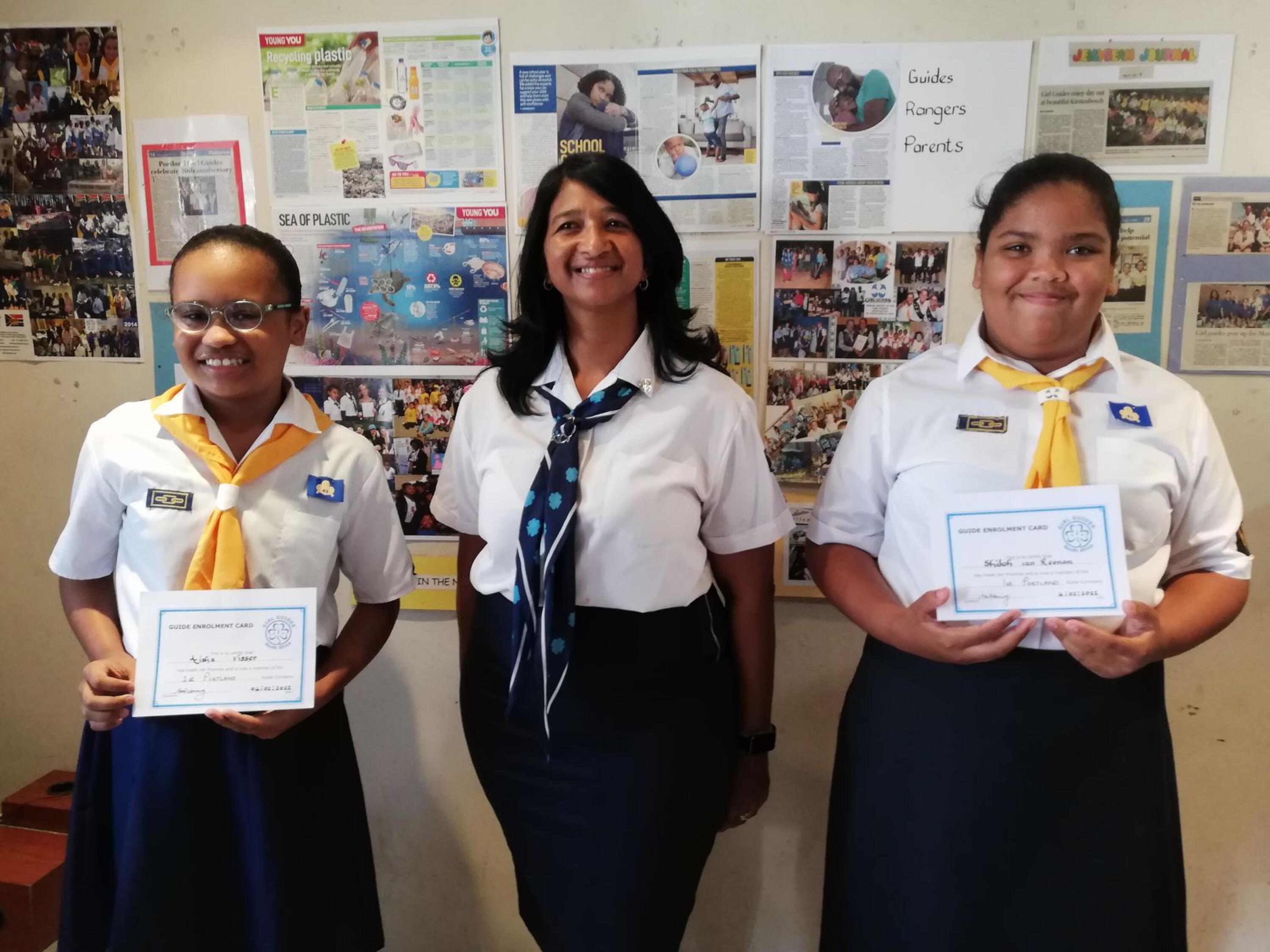 First Portland Girl Guides celebrated their 40th anniversary with the renewal of members' promise to do their best, do their duty to God and to their country, to help other people and to keep the guide law.
They are members of Girl Guides South Africa, who form part of the largest global voluntary movement dedicated to the development of girls aged four to18, and women – the World Association of Girl Guides and Girl Scouts (WAGGGS).
Adult leader and one of the founding member of the Mitchell's Plain group Geraldine February, from Colorado Park, led the girls in their pledge on Friday February 4.
Their first meeting took place on February 9 1982 at Portland Primary school.
When schools closed three years later because of Apartheid unrest, guiding continued.
Ms February said they used the adult leader's house at the time, which soon became too small.
They then moved to Christ the Mediator Anglican Church, in Portland, and in 2009, Cape West Girl Guide Region bought their guide house in Colosseum Road, Portland, where the girls now meet weekly.
Highlights for this guide company include having former Mayor Gordon Oliver, as guest speaker at an annual general meeting; the girls formed a guard honour for British Queen Elizabeth when she toured South Africa; and rangers, girls aged between 18 and 25, helped at the late former president Nelson Mandela's 75th birthday.
Ms February said through a "unique values-based non-formal educational approach", girl guiding created empowering youth learning experiences.
"Guiding offers girls and young women many opportunities to empower themselves. Over the years our members have travelled extensively to attend the world conferences in Jordan, India, Scotland and Hong Kong.
"Our rangers attended World Scout Jamborees in England and Sweden. We visited the World Centres in London, India, Switzerland and Brownsea Island in Poole, Dorset, where Baden Powell the Founder of Scouting held the first experimental camp for boys in 1907," she said.
Travel also include, trips to the South African Jamboree in Johannesburg and the then Natal as well as national camps.
Her daughter, Michelle February, who still serves on the national board of Girl Guides South Africa, was a member of the world board of WAGGGS.
She was one of two South African women to fulfil this position.
In 2016 Evangeline Du Toit, from Rocklands, participated in the Youth Exchange South to South (YESS) Girls Movement, an international exchange programme, developing guiding in Tanzania.
Ms February senior, is the longest serving adult leader in Mitchell's Plain, and is regional president.
Silversands Girl Guide district commissioner Michelle Cleophas, who started as a girl guide at age 12 is now growing the company.
Ms Cleophas said girl guides have the opportunity to realise their full potential and contribute to the development of their country – and the world.
"Our girls have learnt to swim at the many swimming camps offered by the region, hiked up Table Mountain and then spent the night, camped in the rain when tents were blown away.
"They learned how to canoe and sail and even built a raft from telephone poles, rope and drums and spent 24-hours cooking, sleeping and completing spare time activities on it for the annual Kontiki competition," she said.
Girl guides aged between four and seven are called Teddies; brownies are aged between seven and 10; guides are aged 10 to 14, and rangers are aged 14 to 18.
The adult leaders are all volunteers and parents are also involved as members of the Guide Support Group.
They meet at 27 Colosseum Road, in Portland, every Friday from 4.30pm until 6pm.
For more information visit www.capewestgirlguides.org.za or Ms Cleophas via WhatsApp on 083 413 0006.