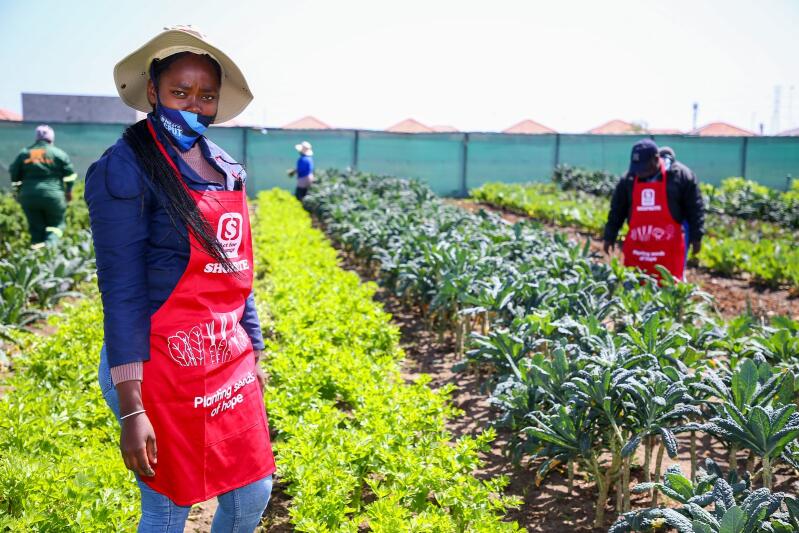 A food garden at Lentegeur Psychiatric Hospital has given mental health patients purpose.
Senior Specialist in Psychiatry at Lentegeur Hospital and Hospital Liaison Officer for The Spring Foundation, Dr John Parker said there was a growing body of evidence to show that therapeutic horticulture had benefits in treating a range of mental illnesses and, in particular, depression.
In addition to the direct mental health benefits of gardening, working in the garden also improves the physical fitness of patients and allows them to develop the skills required to work in any ordinary job. These include following instructions, being on time and working in a team.
"(It also) gives them an opportunity to spend time outdoors and out of their wards, keeps them busy, allows them to earn a small income through the stipends they receive and learn basic financial literacy and enables them to feel a sense of meaning, satisfaction, purpose and value as income earners and producers of food," said Dr Parker.
"Although the garden was initially viewed by many staff members, at Lentegeur, with some scepticism, the changes noted in those working at the garden has been so noticeable that there is constant pressure from various members of staff at the hospital, for the garden to accommodate more patients," he said.
Their seven-year-old garden has aided in the recovery of 50 to 100 patients, some of whom have gained skills for employment.
"A few patients who were trained in the garden had learnt enough about how to plant and care for crops that they now have jobs in the farming sector," said Meryl Smith, director of The Spring Foundation, who's been running a successful food garden at the Lentegeur Psychiatric Hospital.
"They grow a range of seasonal vegetables, including various types of lettuce, kale, spinach, beetroot, chives, brinjals, sage, sweet potato, cut flowers, artichokes, to name a few. Their orchard is still in its early phases but they have planted citrus fruits, guavas and granadilla vines," said Dr Parker.
"The garden project also provides assistance to a number of small urban farmers by acting as a distribution hub that enables access to market.
"We are increasingly becoming involved in farmer training, whilst we also ensure that surplus produce is made available to feeding schemes and local distributors, thus contributing to food security," said Dr Parker.
The Spring Foundation is a non-profit organisation which was started in 2015 with a focus on functional skills training, vocational training and the recovery of mental health patients.
Ms Smith said the Lentegeur Market Garden serves three important purposes. "The garden provides food, it provides training and it provides therapy as well as recovery for the patients."
Shoprite provided the Lentegeur Market Garden with a 5 000-litre water tank, piping and gutters together with gardening tools, compost, mulch, seedlings, herbs and fruits trees.
The retailer is also providing ongoing training for the full-time employees working in the garden as well as those who are working in other community gardens, and small-scale farms in the area.
"We're an organic garden and we're aware of the impact a garden has on the environment, so we're really happy to learn all these new methods to take care of the soil and to plant in an eco-friendly manner," said Ms Smith.
The Shoprite Group has been supporting food gardens across South Africa since 2015 and has partnered with more than 119 community food gardens and 475 home gardens.
"Our dream is to grow and expand the garden so that there are gardens in every area of the hospital. This will not only provide many more opportunities for our patients but it will also change how the hospital looks and feels, as the image of high walls and electric fences is replaced by lush fields of beautiful flowers and fresh produce. To make this a reality however, we need everybody's help," said Dr Parker.
For more information on their project visit the Spring Foundation website or contact Dr John Parker at Lentegeur Hospital.