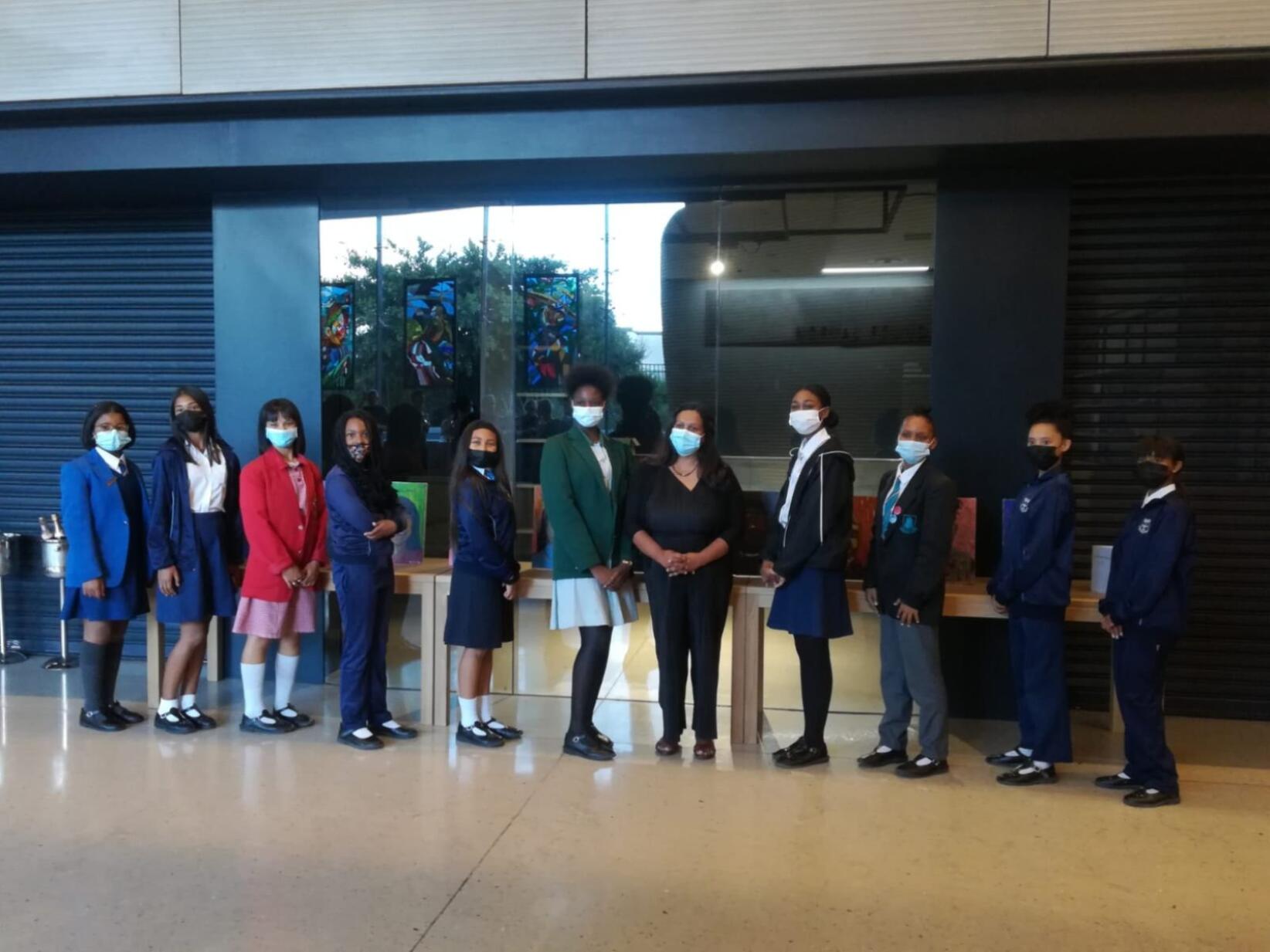 Ten pupils from Mitchell's Plain were selected to showcase their art at the Irma Stern Collection exhibition in Tokai, becoming the first child artists to have their work exhibited at the Norval Foundation art museum.
Their pieces were part of the opening exhibition on Thursday November 11, which they attended with founder and director of the Advance Edukos Foundation, Wendy Abrahams.
The children's self-portraits were created using techniques used by acclaimed South African artist Irma Stern.
According to the website of the Irma Stern Museum, she played a leading role in introducing avant-garde art to the country and Artnet.com describes her "expressive portraits" as being "saturated with colour".
Stern was born in South Africa, to German-Jewish immigrants in 1894 and when she was 18, she decided to study art in Germany.
There she learned about German Expressionist painters, who experimented with exciting new ideas and artistic styles. She travelled and lived throughout South Africa and enjoyed painting Muslim Capetonians, particularly the women with the colourful shawls and headscarves. She'd often used colours you wouldn't normally see in a person's face as well as contrasting tones to show the beauty of the people she painted, said Ms Abrahams.
Stern died in 1966.
In addition to the work of the 10 Mitchell's Plain pupils, the Irma Stern Exhibition also includes the work of 30 other school pupils.
Kasha Pick, 14, from Tafelsig painted a self-portrait, using acrylic paint on canvas.
"What inspired me was artist Irma Stern herself. I loved her different colours she used. I was happy to do the same and paint myself in a colourful way," she said.
"To see a painting of myself is amazing. I'm not set on what I want to do after school yet, however my desire is to study overseas and definitely pursue a career in art.
"It was awesome to visit the museum and see my work exhibited. That was the best part for me."
Izrah Gamieldien, 10, from Bayview said Ms Abrahams had inspired her to do her acrylic paint on board.
"I just wanted to go on and on, really. I felt like I couldn't stop. Seeing my artwork for the first time exhibited at the Norval Foundation was so exciting. I couldn't sleep the night before, I was super excited. When I saw it I wanted to shout and cry. I want to be an artist when I grow up and make people happy with my art," she said.
Nademeah Davejee said she was grateful that her daughter, Layla Davejee, had had the opportunity to join the programme.
"She was always bored at home and now she looks forward to coming to class after school. The programme has had a big impact in her life. She changed drastically, she is more vibrant and outgoing. She is more self-confident and we are so grateful that we have leaders that are encouraging her and her future," she said.
Ms Abrahams said they were invited by the Norval Foundation to exhibit for the Irma Stern exhibition less than a week before the exhibition.
They had sessions with her over a weekend. "This was the first time we did self-portraits. Usually I would teach it over an eight week period, but the 10 pupils completed their self-portraits in about six hours.
"I'm super proud of all of them. We selected our top three art students from our Rocklands after school but due to unforeseen circumstances only one of them participated," she said.
The remaining nine are from their after-school programme in Bayview.