Tyra Booysen, 14, from Westridge, has come a long way from cutting her golfing teeth at the Lentegeur-based Mitchell's Plain Golf Club (MPGC) to taking on the country's best in her division.
A Grade 8 pupil at Mondale High, the young player has been selected by Western Province Golf to take part in the SA Girls' championships, at Sun City, in July.
She recently won the first event of the Clovelly Winter Series under-15 B division and was among the top finishers at the Nomads SA Girls' Rose Bowl Championship at Sun City, tying in second-place with fellow Cape golfer Amina Hendricks and Bloemfontein's Caitlen van Heerden, in bronze division.
She started out with MPGC in 2019 before joining Rondebosch Golf Club, thanks to a development programme involving youngsters from the Lentegeur-based club. The club was established in 2018 and registered as an NPO a year later.
Introduced to the game by her father's friend and colleague, MPGC founder-member Richard Smith, a police officer attached to Lentegeur SAPS' Social Crimes Prevention Unit and an avid golfer himself, Tyra went from being intrigued, perhaps even a little intimidated at the thought of swinging a golf club, to becoming totally enamoured with the sport.
After picking up a club and giving it a swing – she was hooked and now plays regularly at world-class courses across the Cape and country.
It all started off almost by accident when she spotted a set of golf balls in Smith's car while on her way to school. "I saw the golf balls in his car when he gave me a lift. I asked if he played golf. That's when he invited me to join MPCG on Saturdays as a hobby," she said.
"I love golf. I like to face new challenges with every game. It helps with my mental thinking, it pushes me to work harder and exceed my limits. It makes me want to do better at my next game," she said.
For now, she's taking it one stroke, one game, at a time while preparing for upcoming competitions. "I never knew that this sport would make me feel so much joy and love and excitement with every game. It has become my second nature and I most definitely want to become a professional golfer," said Tyra.
MPGC co-chairman Jehad Kasu, met the promising player when her father Ashley, brought the then 10-year old Tyra around to the club, as suggested by his colleague, Smith.
"We started with less than 10 kids, of which Tyra was one. We quickly grew to about 50 kids aged from 4 to 18 years old," he said.
Kasu and co's work with the children in their care quickly attracted the attention of golfers elsewhere in the city and led to ongoing relationships with more prestigious clubs, including Rondebosch Golf Club – a far cry from their makeshift driving range at Lentegeur sports field where Tyra now plies her trade.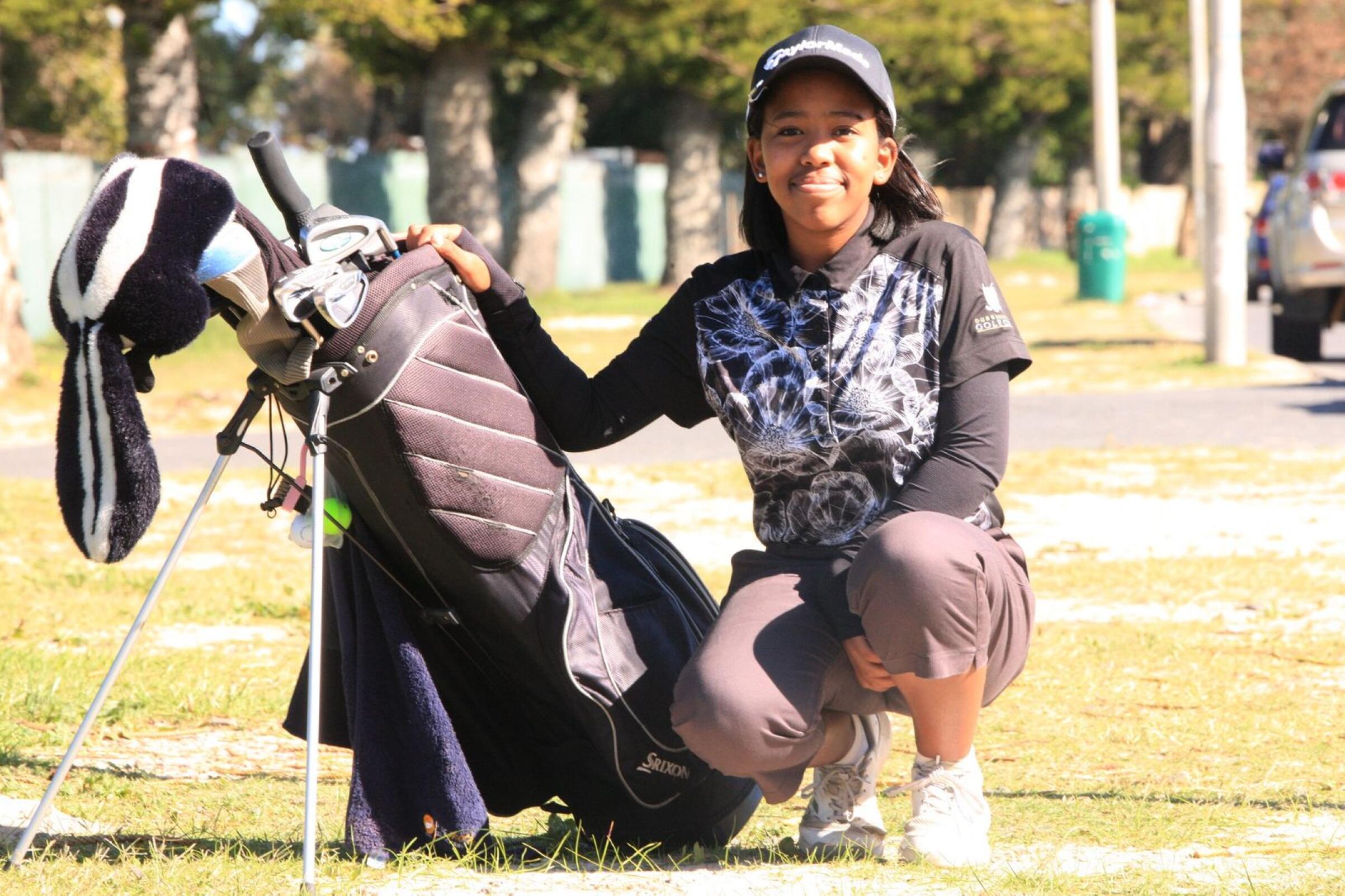 "Rondebosch reached out to us through their now club captain Raj Lochan, after being referred to us by another avid golfer with a golf development programme in the deep south.
"We met, we shared what our purpose and objectives are, and then co-created the junior golf programme along with some Rondebosch member-parents who's children are also part of the programme," he said.
"One thing that will always be a stand-out characteristic of Tyra is her tenacity – she doesn't give up," said Kasu. "While her game has improved in leaps and bounds, it wasn't like that in the beginning. In fact, it was the opposite, and I wouldn't have held it against her if she gave up in the beginning. She only tagged along to practice because her brother was there. But she enjoys the sport so much, determined to improve. And now, she is easily one of our top two golfers," he said.
"What helps Tyra most is she's got an incredible family support structure. Her parents are invested in her (and her brother's) growth and success. Her dad drives her to practice and matches several times a week – which is a massive demand of one's time and finances," he said.
"With our limited resources, it's hard to fill in that parental role for the entire squad. For example, we need a parent or guardian to step in and take them to practice on days we don't have transport to RGC. Or even just someone to motivate them to consistently participate in the programme when they are being lured away by less beneficial activities," he said.
Followers of the game will agree with Kasu's assessment that the demands on and off the greens can be challenging.
"With golf, you always need something," said Tyra's father, Ashley. "Currently she needs waterproof golf shoes, she needs a rain pants, rain jacket, an umbrella holder, something to protect her clubs against the rain. That's why the sport is so expensive."
• For more information about Mitchell's Plain Golf Club or if you'd like to assist in any way, call Jehad Kasu on 072 365 4037 or Ashley Booysen on 072 355 8086.