It's all systems go for Saturday's Safa Cape Town Amateur Coke Cup finals at Athlone Stadium. Bonteheuwel's Goulburn Athletic AFC's senior side will look to etch their names into the club's history books, as they gear up to face champions, Hanover Park's Diadora FC, in what promises to be a humdinger.
"Here we go Goulburn, here we go," their supporters sang in unison, when they booked their spot in this year's cup final, after beating Hanover Park 2-1 in their semi-final, in Mitchell's Plain, a fortnight ago.
Captain and goalkeeper Shakeen Johnson and his teammates will have their work cut out going up against a Diadora side brimming with experience – they've been there, done that.
However, the Goulburn faithful have every reason to believe their side can go all the way as they've been impressive throughout this competition.
No stranger to facing uphill battles on and off the pitch, Johnson believes it all boils down to hard work and a dogged determination to keep going despite the odds.
"Among the challenges we've faced is having limited equipment. We've got two balls which the team uses. We've got limited time to practise due to the gang violence in the area. But what I can say is that the boys didn't let that hold us back. We made the most of what we have. So yes, hard work will pay off in due time. Hard work always beats talent," he said.
A well-travelled journeyman, Johnson, in only his first season at Goulburn, will now lead the side in arguably his biggest game since his arrival at the club. Over the years he's had stints at Blaauwberg City FC, Greenwood Athletic, Bluegum United, Sporting United and JMI Academy.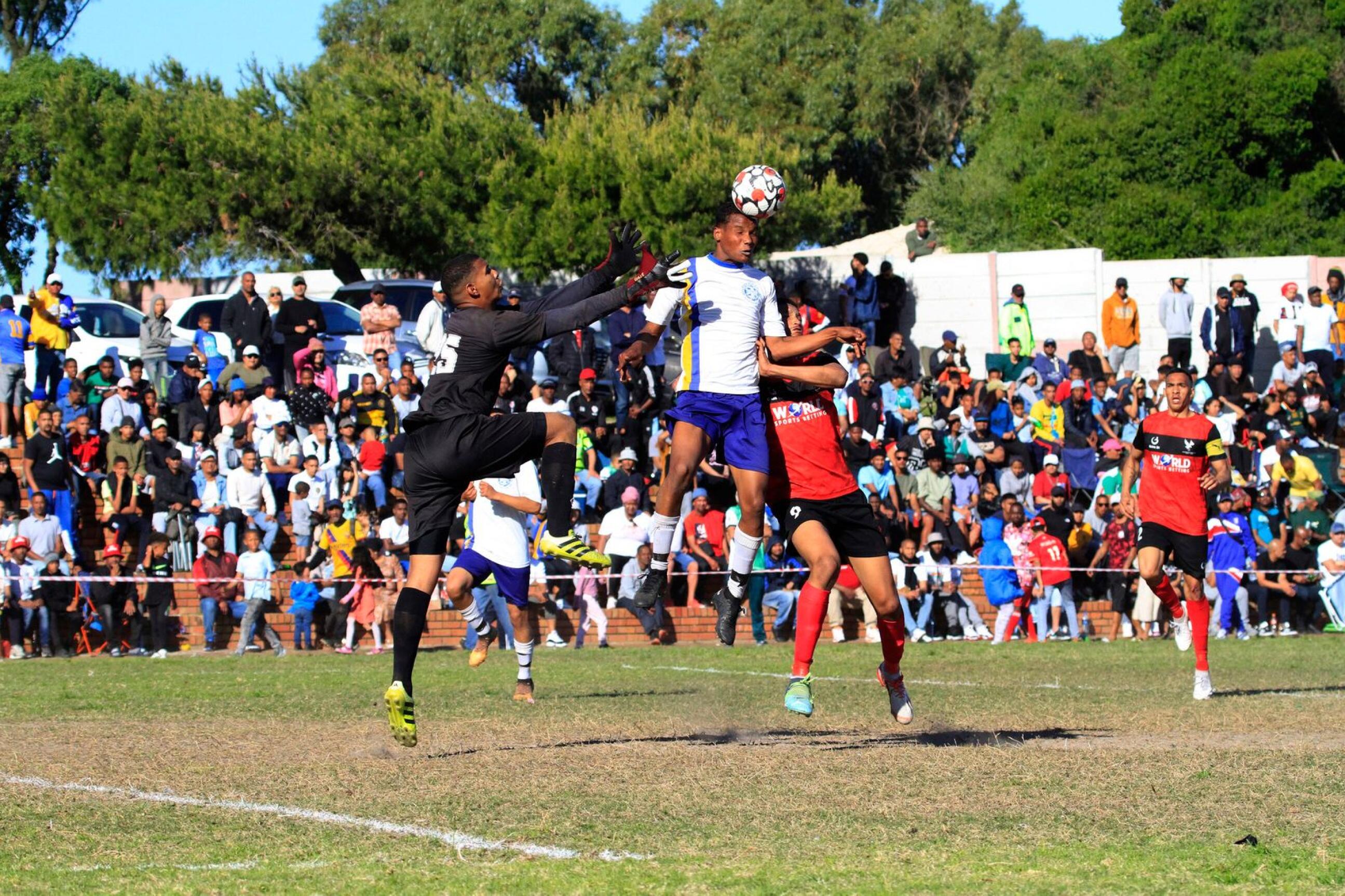 He knows all too well goalkeepers can be glorified and vilified, sometimes in the same match or season.
"Yes, it can be quite lonely but I've been taught to survive and overcome the thought of loneliness," he said. "What I love most is that I am confronted with different emotions and feelings at the same time. I tend to feel happy, miserable but it can be magical and memorable," he said. "One needs to be passionate about what you are doing."
Like Johnson, coach Sardick Barends is also in his first year at the helm at Goulburn and the first time in the club's almost 90-year old history they've reached the Coke Cup finals.
Barends can be forgiven for biting his nails in his side's semi-final clash against Hanover Park who kept on knocking on their door until the very end. Ultimately, Goulburn gave a collective sigh of relief as they held Hanover Park at bay to walk away 2-1 winners and 2023 Coke Cup finalists.
"It was end-to-end all the way, with lots of chances at both ends, but we took our chances when it mattered the most," he said.
"By all accounts, it's a big deal for the club and the community at large," he said.
Goulburn Athletic chairman Frank Smith paid tribute to all who helped to steer the club to success. Established In 1934, in the Akkers, Goulburn Street Goodwood, the club merged with Bluegum Athletic AFC in 1991 to become Goulburn Athletic AFC. Smith said Goulburn moved to Cape Football Union, Turfall, in Athlone due to the Group Areas Act and joined Metropolitan LFA in Bonteheuwel In 1969.
"We have a team of local young, talented, dedicated and disciplined players," he said. "We believe in empowering, creating and giving opportunity. This is evident in this team's dedicated and hard-working management team, consisting of Edgar Fortuin, coach Sardick (Barends), assisted by Toufeeq Dollie. We also have hard-working executive members and other committee members working in the background for the club to be successful," Smith said.
As is often the case with clubs across the city, he said, Goulburn also has its fair share of social issues that plague communities everywhere. "At times training is hampered by gang violence," he said, echoing Johnson's sentiments, "or waterlogged fields, very little resources, no dressing rooms, as this was demolished by hooligans. Here SAPS and Law Enforcement are failing the LFA and the community," he said.
"Our biggest challenge is the lack and affordability of resources and equipment. We have to do with the bare minimum. Sponsors, and even the top soccer clubs, seem to turn a blind eye, or look the other way when it comes to Bonteheuwel," he said.
"Unemployment is a reality in Bonteheuwel. At Goulburn we are a big family. We try to help or assist where we can. We reach out to especially our youth. We try to run stalls, or have fund-raising functions to raise money. While struggling with resources, we don't only focus on soccer, but to build on character, teach discipline and groom good sports people out of our youth," he said.
For now, the focus is on footballing matters and finishing the season off on a high note.
"We have junior teams in all age groups, ranging from under-8 (two teams) to under-18, and two senior teams. Some of our junior teams were league winners for this season. Our Premier team also won their league and are preparing for promotional play-offs," Smith said.
As far as Saturday's finals are concerned, he said: "Anyone would want to win. We are humble. May the best team win. Good luck to both teams." CCN Sport