The Westridge Cancer Survivors Support Group celebrated their 10-year anniversary on Wednesday October 11 at Christ the Mediator Anglican Church in Portland.
Survivors encouraged patients and families to be part of a support group to journey with them through it all.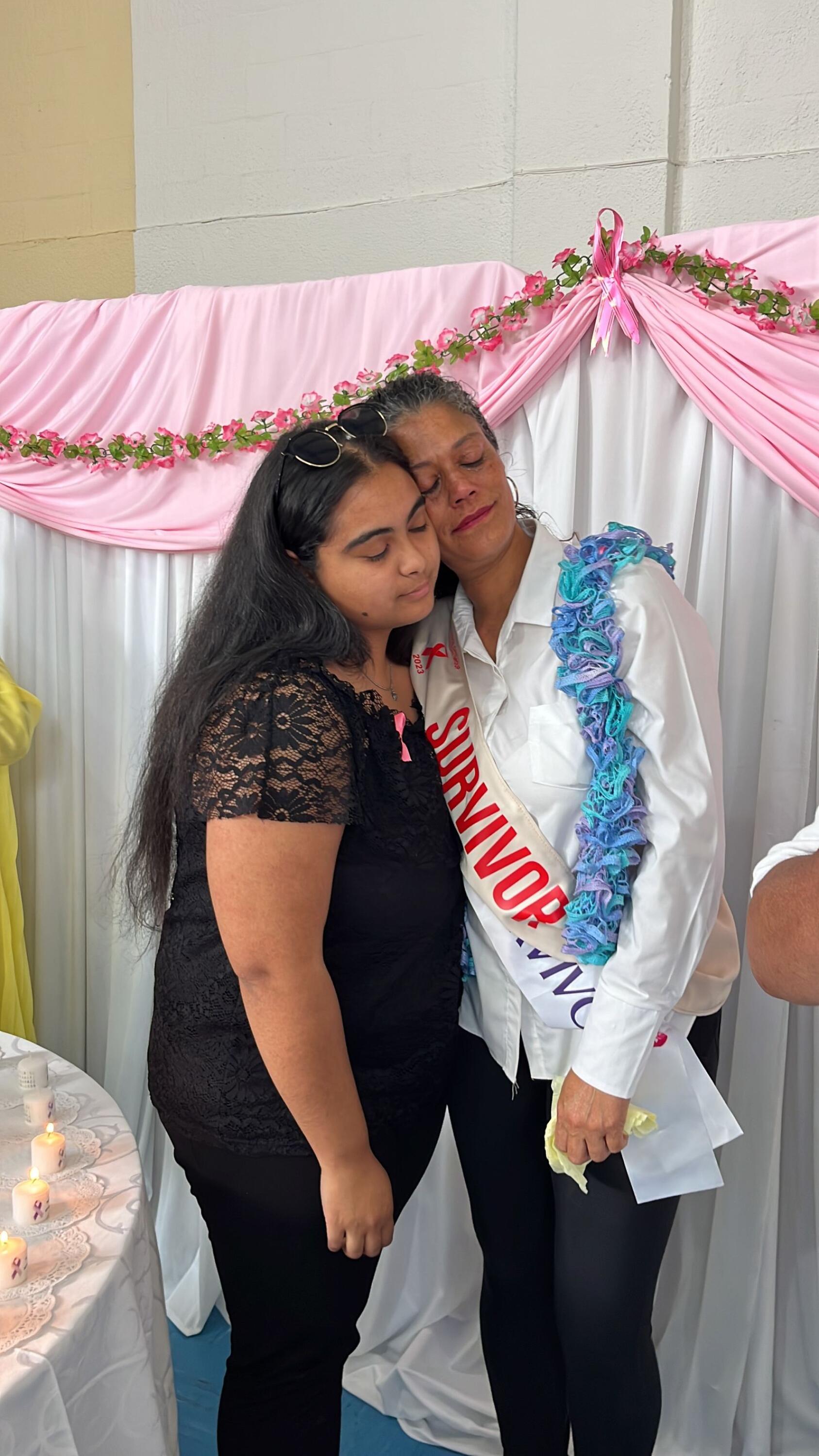 When Henry Windvogel, 68, from Bayview was told by the doctor he had cancer behind his nose he was in disbelief.
It is now five years later, and the Bayview resident told the Plainsman at the survivors support group anniversary celebration that he is cancer free.
In 2018 he didn't know he had cancer when he started feeling dizzy. After a biopsy and many doctor visits, he was alone when he was told he had cancer.
He had to finish a total of 50 bags of chemotherapy, which took 12 hours and had to be admitted for five days as well as undergoing 45 days of radiation.
He's had no operations done and medication consumed since being cancer free.
"You are your own killer if you don't talk about this," Mr Windvogel said. "I spoke to everyone. I'm proud of what the Lord has done for me. There's hope – cancer is not the end, you must be positive," he said.
The group's longest survivor for 27 years, Claudine Accom, 51, from Seacrest in Strandfontein, was diagnosed with cervical cancer at 25 in 1994.
"I did my routine Pap smear in 1994, got called up numerous times as the results from the previous smears were not clear. (The second and third smears were confirmatory smears for cancer). On my fourth consecutive visit to the gynaecologist, before I could moan about not doing another Pap smear, I remember hearing him say, it's cancer. Dumb-struck I sat there wanting to know what now," Ms Accom said.
She didn't have chemo or radiation, but treatment included cauterising the area. She went through this for two years when she underwent a hysterectomy in 1997. Her family was complete at the time.
She said they were all relieved when her results came back clear.
"Having cancer didn't get me down, I was in control of my own destiny. As long as they tell me it's clear I'm happy. Even though my husband was present for every session back then I went through it alone. Now I am grateful to have the support and prayers of the Westridge Cancer Survivors Support Group."
Her hair still falls out but now she lives a healthy lifestyle and gives back to others going forward.
Another cancer survivor, Michael Williams, said it's stories like these that make Westridge Cancer Survivors Support Group what it is – helping one another and honouring survivors. "We want to reach out to the community of Mitchell's Plain so that they can know they're not alone and there's help."
Mr Williams was diagnosed with lymphoma cancer in 2021 and is currently in remission. He had started chemotherapy two months after being diagnosed and finished treatment after six sessions. In November 2021 he had his final chemo and in January last year he was declared cancer free, he said.
"My journey was good. I have a very good support system with my family and make sure they understand the disease. It's important to belong to a support group," he said.
Johanna Henry, 75, better known as "Aunty Jo" is a volunteer and facilitator for the Westridge Cancer Association of South Africa (CANSA) Cancer Survivors Support Group and helps create awareness around cancer.
She has been with the group for eight years. This has become a home away from home, she said. During Covid-19 they could not meet at the Westridge library but they kept in contact with one another. They started meeting at Westridge Gardens in 2021 and reunited last year.
"The more survivors share their stories, the easier the journey becomes," she said.
Portia Christians from the Anglican Diocese of False Bay's Social Development Department, said the survivors and the impact they make are very important. "Survivors are able to unpack what's on their hearts. Many will fade away but this group kept going and had a remarkable spirit to thrive. We hope they grow and stay, not only for survivors but also for families who lost loved ones as they need that support," she said.
Mu-izz Hendricks, manager of Westridge library, whose late mother, Sharmilah Hendricks was an ambassador of this group, said they are happy to be partnering with the survivors support group.
For more information about Westridge Cancer Survivors Support Group, call Mr Williams on 061 849 3804.