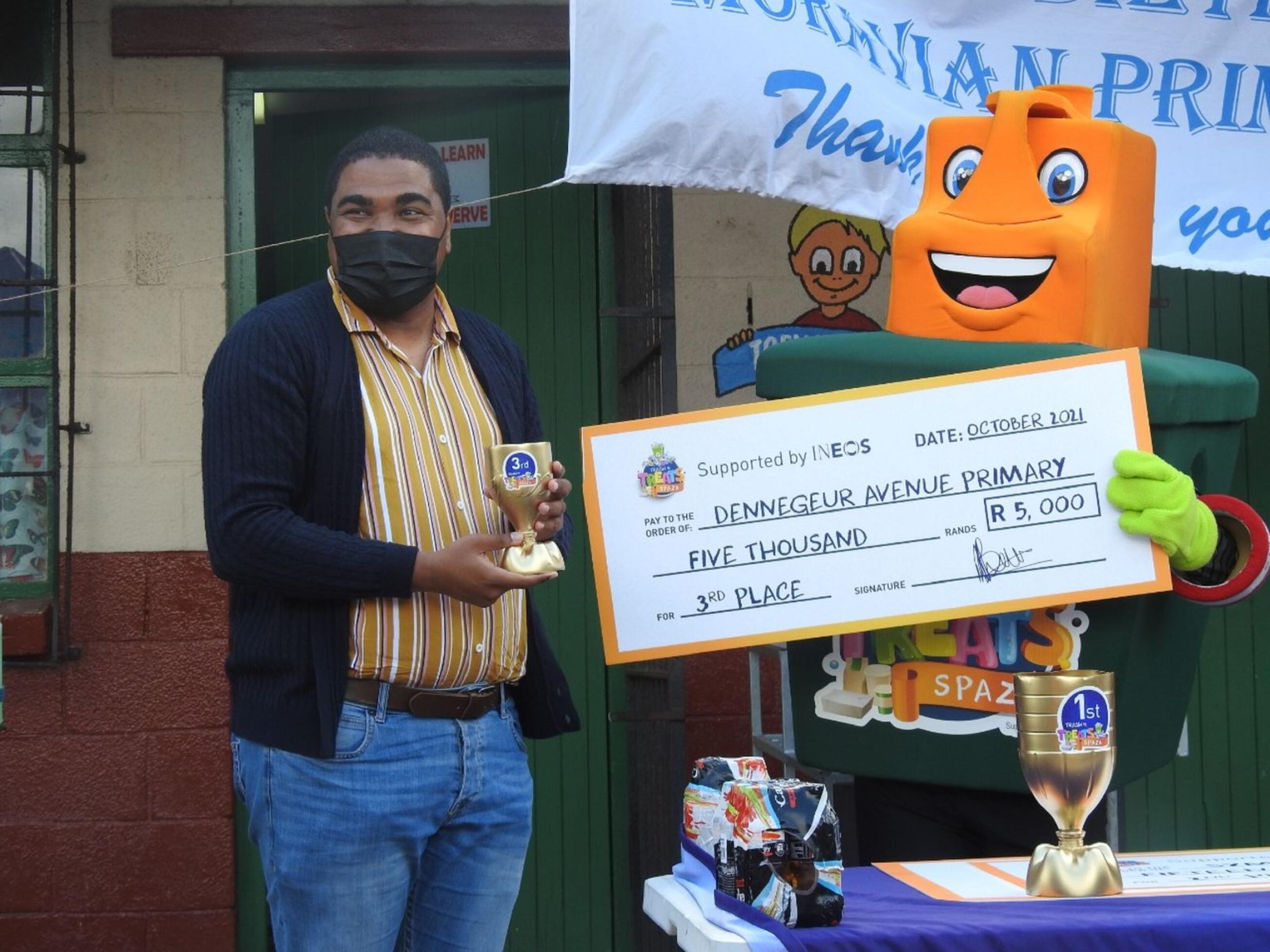 A Strandfontein primary school won third place in a Western Cape trash collection competition.
Dennegeur Primary School teacher and eco club committee member Ashrick Alexander said next year they want to win the annual INEOS Treats for Trash Competition.
They were one of 20 schools who contributed to 25 tonnes of paper, plastic and metal, being diverted from the landfills and instead be reused or recycled.
Mr Alexander said they would be using the R5 000 winnings to mark the playground and reuse old desks outside.
"The competition launch encouraged the pupils to bring trash and participate.
"Team work makes the dream work. They got the community involved," he said.
This year former winner Mitchell Heights Primary School, one of 10 schools, participated in an incentive programme and received R5 000, based on the weight of their recyclables collected.
Three Tafelsig brothers, twins Lyle Faro, Kyle, 9, and Jay Jay were among the top contributors, who collected the most recyclable goods.
They were supported by their grandmother Jasmine Andrews, who would collect trash en route to and from school every day.
Ms Andrews said it kept her and the boys busy during the national Covid-19 lockdown and changed their environment.
Mitchell Heights primary school deputy principal Neville Saayman said winning the competition gave the school a boost.
"The ultimate aim is to make a difference in the community," he said.
Mr Saayman said Kerby recycling company weighed and collected the trash and in return paid the school for their dues, with the funds they were then able to beautify their school.
Top collectors each received a backpack, with a lunch box of goodies.
Between April to September this year, pupils from 20 primary schools in the province were tasked with minimising waste by collecting paper, plastic, tins and glass; and to maintain the value of waste.
This is in accordance with the Extended Producer Responsibility (EPR) legislation, which recently came into effect, focused on ensuring that the value of waste is never lost.
It helps divert materials from landfills, requiring that these materials be recycled and reused instead.
It helps divert materials from landfills, requiring that these materials be recycled and reused instead.
INEOS project manager Caroline Hughes said the competition taught pupils the importance of recycling at a tender age, to help them build positive habits for the long term.
"Through this competition, we want to demonstrate to young pupils from low-income households that recyclable waste has value.
"In addition, we strive to encourage behaviour change through a combination of education, recognition and reward," she adds.
In return for the most recyclable waste collected, pupils were rewarded with treats, and the schools won their share of R100 000 in prize money to upgrade their facilities.
INEOS is a global chemical company.
Ms Hughes said many of the participants did not know why litter was a problem.
"But the hope is that now, having seen the financial and environmental benefits of managing their waste, these children will continue to keep their neighbourhoods tidy.
"The waste that they helped us recycle this year would have otherwise ended up in our already full landfills," she adds.