Law enforcement halted a land invasion last weekend by Tafelsig backyarders of land owned by the City of Cape Town in Tafelsig.
The Western Cape High Court is set to hear an application next month by the City for a court order to stop the illegal occupation of the land and to prevent further unlawful erection of structures.
Safwaan Jordaan, 27, his wife Lucrisia Vosloo, 25, and dozens of others living in the backyards of Tafelsig reconstruction and development programme (RDP) housing properties built shacks on a field, bordered by Honolulu Street, last weekend.
The family say they are at their wits' end as they try to survive the national Covid-19 lockdown in a dark, cold and damp wendy house in someone else's backyard.
Law enforcement officers never gave the backyarders a chance to occupy the City-owned erven. Within hours of putting up their structures it was broken down – and continued to be every day from Friday June 25 until Monday June 28.
Mr Jordaan said they were living under untenable conditions where he, his wife and their five children sleep in a makeshift structure, around the corner from his mother.
"Sometimes they (the landlord) switches off the electricity about an hour after just having bought (units)."
They do not have access to a flushing toilet all of the time and need to use bottles of water at a time, he said.
"I just wanted a bit more space and freedom for my children to move in," he said.
His neighbour, Michelle Bunding, 45, lives with her eight children and has had to pack all of her belongings in black bags to prevent it from getting wet and ruined.
With the heavy rains last week, the walls of her wendy house were damp and the roof was leaking. The rain was pooling at their feet.
"I am better off than most but we are human and we have our dignity," she said.
Prior to moving into this monthly rental space at R800 and R600 for electricity about a year ago, they moved from place to place for the past 10 years.
Her eldest daughter matriculated with top honours last year.
"It is not where you come from but what you put in and she studied through summer and winter in this shack, when bullets were flying," Ms Bunding said.
She said the squatting was not about wanting to live for free but for her children to have a better life.
"My kids are being treated inhumanely. They are told to be quiet. We are told we are in need of a place to stay, so we must just accept what we get," she said.
Ms Bunding said the South African Social Security Agency (SASSA) child support grant (of R460 per child per month), help from family and the money lenders help to cover their expenses.
"Sometimes you just feel hopeless that you don't even want to clean because there is just not enough help," she said.
She said now with lockdown often both landlord and tenant were unable to work or had to face pay cuts.
Metres away from where law enforcement was curbing the start-up of the informal settlement, Gideon Titus, 60, has been living in a shack, further in the bushes for more than a decade. Prior to this he had lived closer to the houses. His structure burnt down and he lost his belongings, including his identity document. He has been squatting for a total of more than 20 years.
In another shack, close to his, lives Kashiefah Julisen, 58, who said living in the bushes was best.
They ask for water from their neighbours, collect fire wood and have oil lamps to get through living in shacks.
"There is always food. We share with each other," she said.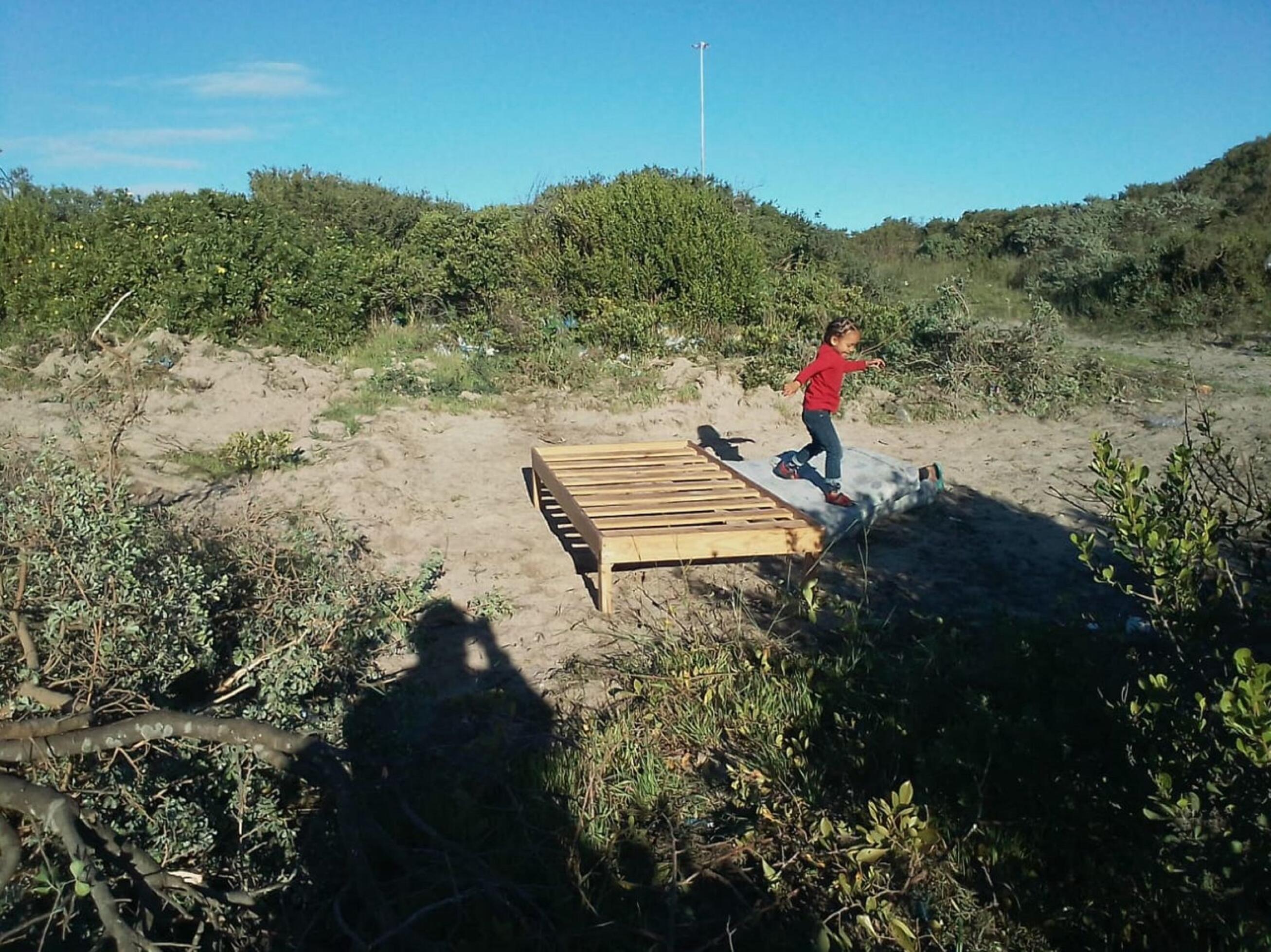 Malusi Booi, mayoral committee member for human settlements, said the national Covid-19 disaster regulations that were implemented last year prevented evictions during the lockdown periods but that the City did not evict unlawful occupiers but prevented the unlawful occupation through its counter spoliation right, namely the right the landowner has to remove unoccupied unlawfully erected structures and materials.
"The City applied for a court interdict to prevent further building of structures in the area," he said.
Mr Booi said the City removed illegally erected, incomplete and unoccupied structures found during daily operations, which were carried out in all areas across the metro.
"The City acts to prevent the unlawful occupation of land and to prevent residents from placing themselves in danger when attempting to settle on unsuitable land and to uphold the rule of law for all in our communities," he said.
He said the City would act within the ambit of the law to counter the unlawful erection of structures and occupation of land.
Mr Booi said numerous newly-established communities were demanding services but that the City was unable to cater for these unplanned settlements. Existing, recognised informal settlements are prioritised on the basis of available resources, which are limited.
"Planned and budgeted projects are prioritised. Assessments of all unlawfully occupied areas is being undertaken and will continue to be undertaken across the metro," he said.
He noted that the majority of the settlements have been established on unsuitable land or land with great constraints for service delivery.
The City sought a court order to restrain the unlawful occupation on the Tafelsig erven CA544-59, 46618RE and 56889 RE to prevent further building of structures in the area.
The Western Cape High Court has called upon those who attempted to unlawfully occupy the erven to "show cause" on Thursday August 19 at 10am, to say why they invaded the land.
Mr Jordaan's mother, Kashiefa, 52, said they will be at court on the day "standing their ground".