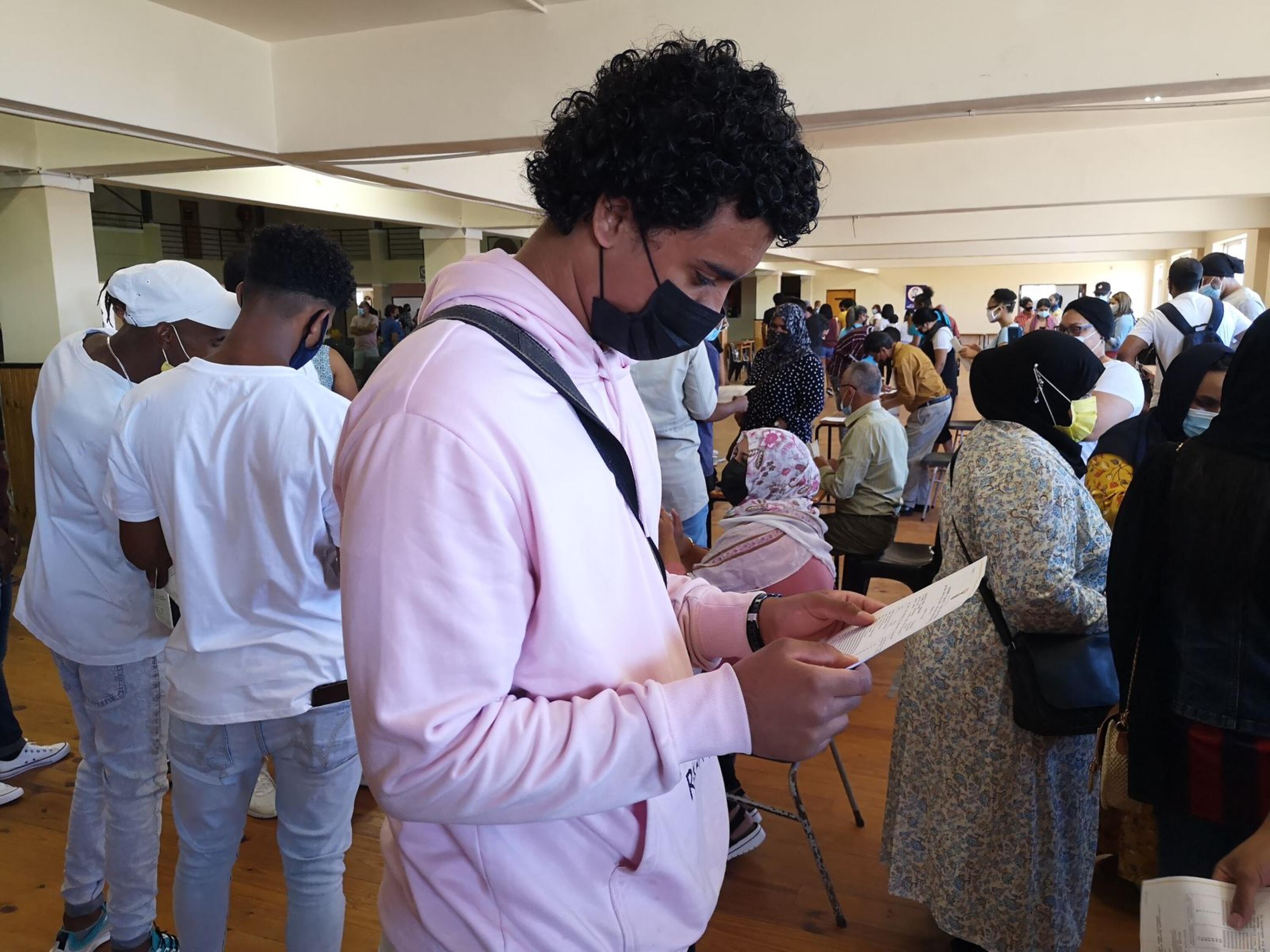 Excitement was in the air as Spine Road High School celebrated coming out tops among Mitchell's Plain's high schools when the matric results were release last week.
The matric class of 2021, the second batch of matriculants to complete their final year under the "new normal", fetched their National Senior Certificate results at school on Friday January 21.
Education MEC Debbie Schäfer said she was delighted with the results of the Western Cape's 81.2% pass rate – an increase of 1.3 percentage points from last year.
"Considering that this was achieved after two years of a global pandemic, makes it even more remarkable. The 2021 matrics have had a tough two years.
"Their Grade 11 year in 2020 was marred by school closures, with their grade going back to class later than many others. However, their matric year has been very stable, with more time in class than in other matric years," said Ms Schäfer.
Spine Road High School came out on top with a matric pass rate of 99.3% placing first among the Mitchell's Plain high schools .
A delighted Spine Road High principal, Mark Fairbairn, said the school achieved a bachelors pass rate of 88.3% – a new record for the school. Last year 71.6% of their passes were bachelor passes.
"They have shown resilience. They were at school 50% of the time. We can tell our teachers and pupils have put in a lot of work. Spine Road is one of the best schools in the Western Cape. With the circumstances we've been dealt with, we have continued to serve excellence," he said.
Ebrahim Da Costa, 18, from Schaapkraal placed first among Spine Road High's matriculants, with all sevens in his report. He has been accepted at the University of Cape Town to study computer engineering.
His mother, Gadija Da Costa, cried tears of joy for her son. Ms Da Costa had been stuck overseas, due to pandemic travel restrictions, for the first six months of Ebrahim's matric year.
"He knows this is just the beginning. His marathon is just starting," she said.
His teacher Ilze De Wet said he was a quiet child but very hardworking, respectful and kind.
"He was very independent and had the support of his brother and close family at the beginning of matric. I am so excited for his future. He's an excellent student. He knew he would pass, he just didn't know he would do so well," she said.
Another Spine Road High matriculant, Lee Fredericks, said it had been a tough year for them. "In Grade 11 we'd attend school twice a week. It was periods of being overwhelmed but we stayed dedicated and worked hard," he said.
He has been accepted at UCT to study biochemistry.
Mr Fairbairn said the 2021 matrics had had to deal with many factors affecting their schooling, among them stress, unemployment of caregivers, mental health and Covid-19 to name but a few. However, he said, Covid had had one positive outcome
"Our Grade 12 class was split up into classes of 25 pupils. Covid-19 was to their advantage which allowed for more in depth consultation in class. This group is advanced as they've been prepared for further studies. They had to do a lot on their own," he said.
Sheik Ebrahiem Dawood, the principal of Darul Arqam High School in Eastridge, , said he was extremely happy with their pass rate of 98.8%, placing them second among Mitchell's Plain high schools.
"We had a bachelor's pass of 82% for last year. The drop from 100% to 98.8% may have been affected by the difficult backgrounds of the pupils. Only one of our pupils failed. However, we are very proud of them. They've done their best," he said.
Mr Dawood said the school encouraged parents to work with them and have pupils attend compulsory and after-school classes.
"We always encouraged them to stay focused and pursue their aspirations beyond matric and make it a reality," he said.
Darul Arqam's top pupil, Aashiq Johnson, 18, from Belhar, said he didn't expect to place first.
"Last year was challenging, but I am so motivated to do more and put in the work. I am excited to start at Stellenbosch University for business management."
Zaid Levy, 18, from Westridge, who was the school's most improved pupil, said he didn't think he was going to make it. It was very stressful for him but he learnt so much about life and school, he said. "I am so proud of myself for making it this far. If I can do this anybody can," said Zaid.
Mondale High School's principal Owen Bridgens said they were not satisfied with their 98.3% pass rate which placed them in third position among the Mitchell's Plain schools.
Their science and mathematics results were affected by the pandemic, he said, adding that part-time schooling had resulted in pupils losing half of their Grade 11 year.
He said the school would continue to improve on its maths and science performance and was looking at employing more qualified teachers.
"We hope schools will go back to full-time, or it will affect them badly," said Mr Bridgens.
"Congratulations to Spine Road High for doing so well. We need more schools in Mitchell's Plain reaching for 90%. I look forward to that," he said.
The class of 2021 NSC matric results