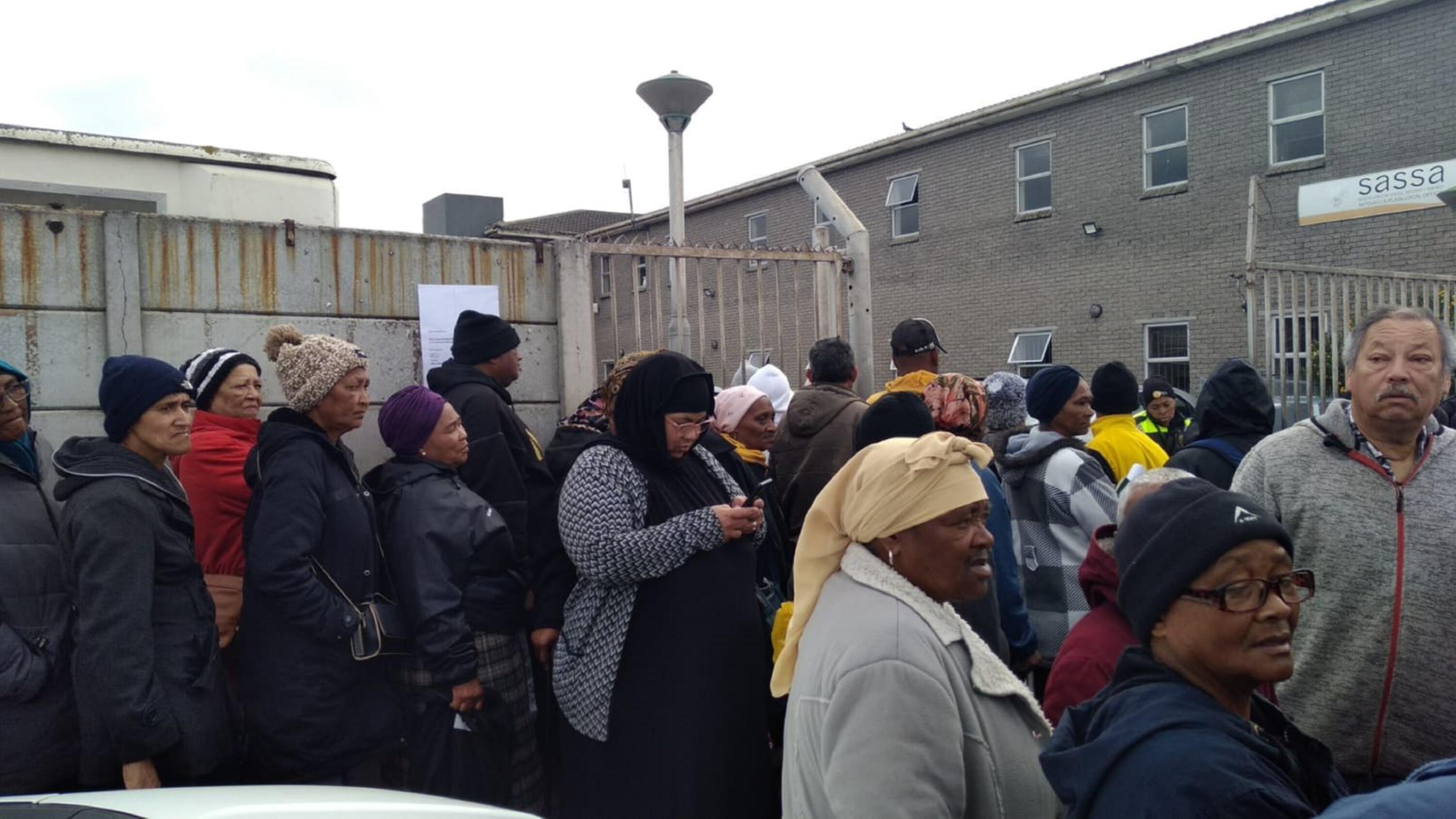 Hundreds of Mitchell's Plain South African Social Security Agency (SASSA) grant recipients were left hungry, unable to buy their basic necessities and cover their debts because they could not make withdrawals or transact at automated teller machines (ATMs) and various retailers last week.
As per usual many started the queue at payment outlets at 4am on Tuesday September 5, only to be told by 9am that payments were not released.
Many called their ward councillors demanding answers and flocked to the Sassa Mitchell's Plain office – only to be told that there was a glitch in the system.
Pensioner Gloria Bailey, from Eastridge, said her Sassa grant was her only income. She was among a dozen people who went to the Town Centre office of political party, the National Coloured Congress, where activist Rochelle Minnaar recorded a TikTok video.
Ms Minnaar said there was not much they could do to remedy the situation other than raise awareness about the plight of seniors and parents who cannot care for their children without the grant pay-outs.
"I don't have children, grandchildren and my husband died. I have to pay my rates, buy petrol; my tank is empty, buy food and with the change I have left I must cover my funeral fund," she said. "I need that money please," she said.
Soup kitchen founder and co-ordinator Widaahd Williams, from Al Furqaan (The Criterion) Foundation in Tafelsig, said the delayed payment had put extra pressure on them to distribute food to their neighbours, many of whom were grant recipients.
"We are faced with real challenges. It is cold and we have limited resources. Also, my pots were stolen. I'm very heartbroken. No leads; no traces of my two feeding scheme pots, the pots that I feed my community from. So sad," she said.
Shivani Wahab, Sassa director of marketing and communications, said recipients using the Sassa PostBank Gold Card could not make withdrawals or transact at ATMs and various retailers, other than PostBank points of sale, even though Sassy had made payments for the clients' accounts.
The technical challenges only affected clients who were using the Sassa PostBank Gold Card. Other clients, who were receiving grants at various pay points or other banks, except PostBank, were not affected and were able to withdraw their payments.
Sassa acknowledged a notice from PostBank regarding resumption of payment withdrawals or transactions following technical challenges experienced by social grant clients on payment days on Tuesday September 5 and Wednesday September 6.
"SASSA clients can make use of the alternative methods of payment available to receive their grants through various banks or retailers," said Ms Wahab.
Charmaine Adams, from the Mitchell's Plain United Residents' Association (MURA), said there were chaos in the Town Centre most of last week. "Pensioners went from shop to shop and bank to bank.
"One woman also went from Mitchell's Plain to the post office at Grand Central in Cape Town, then to Vlaeberg and Maitland but still had to wait days before the money was released," she said.
Another mother was unable to care for her child, who has cerebral palsy. "Sassa must out to assist us. What happened to our money," she asked.
"There is no money. I can't buy 'kimbies' (disposal nappies), milk, food and she needs to eat on time; she has to take medication," she said.
She left her daughter with a carer, whom she had to pay, while she collected her Sassa money.
Another woman said she only had R10 in her account, which she needed to return home and she did not have taxi fare to return to the Town Centre every day.
Brett Herron, GOOD political party secretary-general and member of Parliament, said in a media statement over 18 million social grants were paid monthly and that the "system error" left thousands, if not more, unable to access their only source of funds.
The country offers eight social grants that range between R350 to R2 100 a month.
Three of these grants – the social relief of distress grant, the child support grant and the grant-in-aid – fall below the food poverty line of R760 per person per month, read the statement.
"The food poverty line is seen as the amount needed to afford the minimum required daily energy intake.
"Failing to make payments on time is detrimental to people's survival," said Mr Herron.
Social Development MEC, Sharna Fernandez, said her department has a good working relationship with the Sassa regional management in the Western Cape, and that when they receive complaints from Sassa beneficiaries, they direct it to the relevant Sassa officials and follow up to ensure the matter is resolved.
"We will remain in contact with Sassa's regional management in the province to keep abreast of matters, as residents deserve answers.
"We have been informed that local offices are monitoring all concerns reported on the ground and that they are in contact with post offices and PostBank representatives to assist. We will also continue monitoring the situation, as we know any delay in accessing grants leads to great anguish for vulnerable residents," she said.
Sassa, the SA Post Office, and PostBank, fall under the national government.
Ms Fernandez said provincial government was limited in its powers to address concerns, as this was a matter for Social Development Minister Lindiwe Zulu to get a handle on.