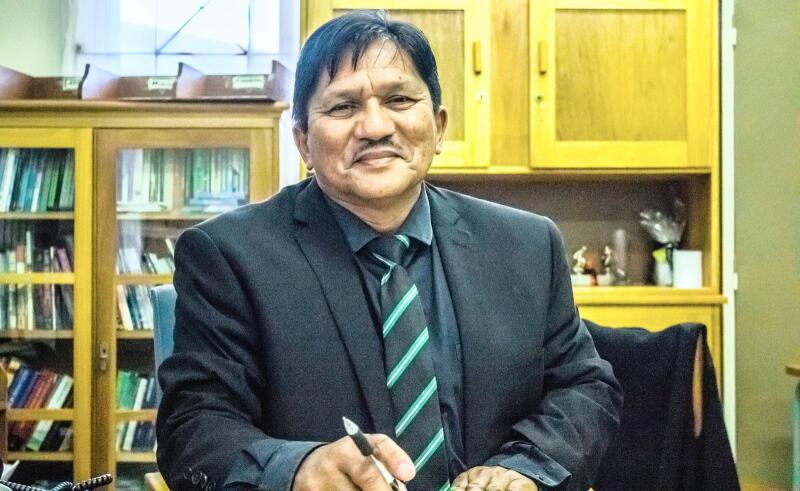 Oval North High School principal Na-aim Kassiem, 64, is retiring after 45 years of teaching.
Mr Kassiem, of Athlone, is a "founder principal" who joined the school when it opened in 1989, at Beacon Hill High School, before moving to its current premises in Oval Street, Beacon Valley, in 1991.
He started his teaching career at Easter Peak Primary School in Manenberg, in 1976 – the year of the Soweto Uprising.
He taught maths at Easter Peak, and, in 1979, moved to Ned Doman High School in Athlone.
In 1980, he taught Afrikaans at Woodlands High School.
"Pupils were sent from all over to attend Oval North, previously known as Mitchell's Plain #17. It was a challenging time because of the school work and the various schools they came from. We had to mould those pupils into pupils of Oval North."
The technical wing of the school only opened in 1992, with civil, electrical, mechanical, engineering, graphics and design subjects.
"My heart is in this school; I love the children as they are the most important part of it. When one is a teacher, you need to pour into the school," said Mr Kassiem, who was clearing out his office ahead of his official departure on Tuesday December 15.
"I am very proud of my pupils. Some of them I could not catch, the ones who slipped through. I was supposed to be their safety net, but I am not God. I see them now and hear they hold high positions in the community, and I am so proud of them for pushing through regardless."
Beacon Hill High School principal Gregory Kannemeyer and
Portland High School principal Ridwaan Williams are teachers who came from Oval North High School, to name a few. Former pupils of Oval North, Theresa Jacobs and Euline Poole, are teachers at the school.
"The school has been blessed with very good teachers," Mr Kassiem said.
He grew up in District Six, one of 13 children. All of them have careers in nursing and teaching as these were some of the only jobs available to people of colour in apartheid South Africa.
Mr Kassiem said he still lived by the lessons of his late father, Mogamat Salie Kassiem, who had taught them to study and do things for the benefit of others.
During his time in the principal's chair, he has experienced, through the lives of his pupils and their families, the traumatic residue of suicide, gang wars and gun violence. Those are memories he takes with him into retirement.
"The hurt runs deep, one really never parts from this as the children become our children, they are a part of who we are," he said.
He recalled how during his early days as principal he would approach gangsters to make it clear to them that the school was a no-go area for their feuding and criminal activity.
"It was in the gangsters' territory. It had an open field that acted as a throughway. The school is a sacred place, it was important to me to make this known."
The school's head English teacher, Ursula Louw, said Mr Kassiem had always been the first to arrive and the last to leave the school.
He had remembered each pupil's name as well as the names of their siblings and parents.
"He knew their history and plight. I admired him for this," she said.
Head Afrikaans teacher Daneal Bosch said Mr Kassiem's love for the children stood out for her the most. And he had brought plants from home to put in the school garden.
"I would make sure my Afrikaans work was top-notch because of Mr Kassiem's experience in the subject. We will miss his presence at school."
Deputy principal Nazeem Jacobs said Mr Kassiem lived for the school, "It's his life," he said.
"He would go over and beyond for the pupils, he would sit down and make time for them. He was easy to talk to… He cares for this school, he cares for his family. We will miss him. He is a small man but there are big shoes to fill."
Mr Kassiem said the school was entrusted with the future of the community.
"To the next generation of teachers," he said, "put the children first. Always unite around the interest of the pupils, that's a great sacrifice. You should stay healthy and pray often."