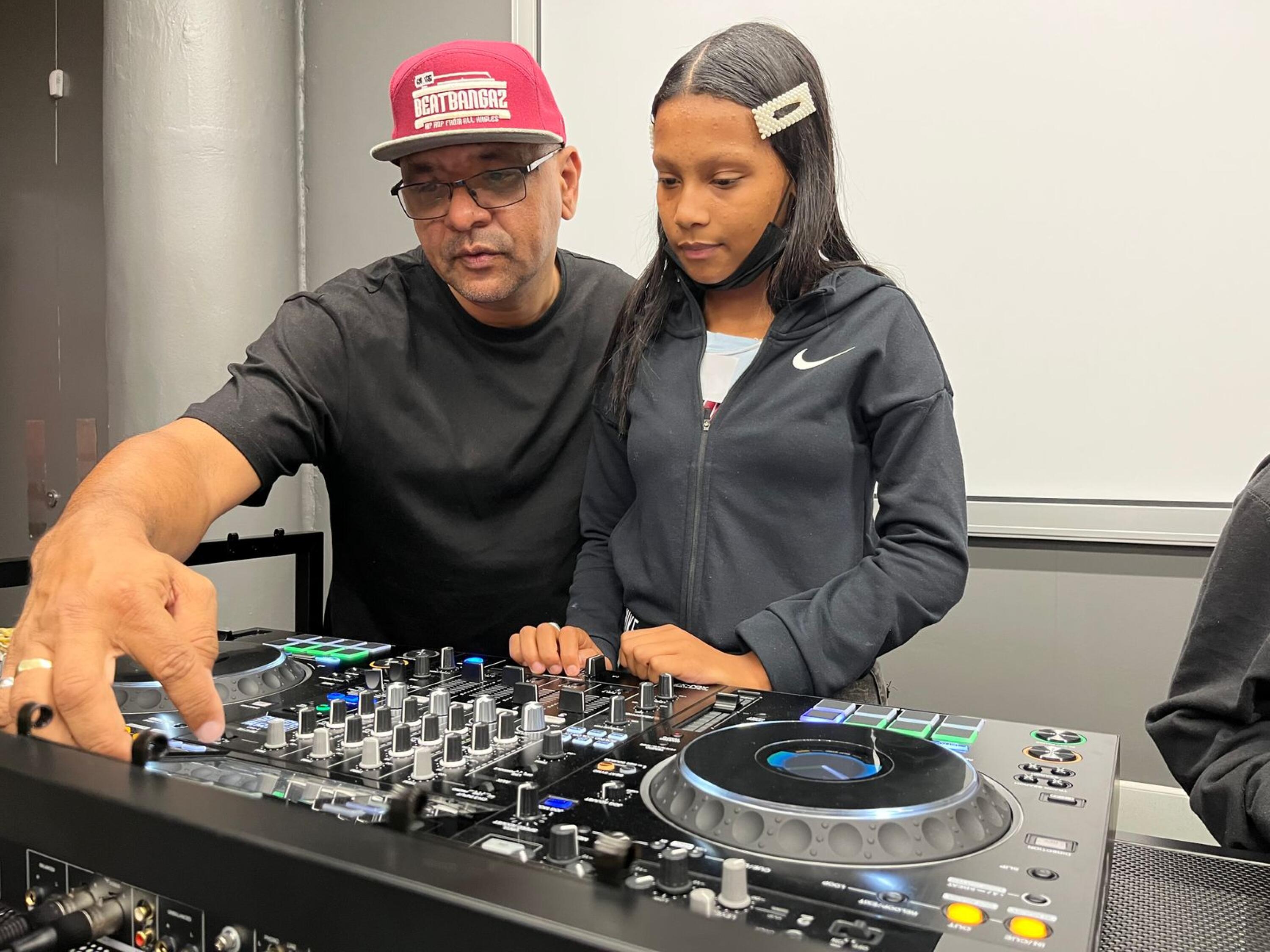 Ten Mitchell's Plain girls are learning the basics of DJing.
Among the things they learned at the Beatbangaz All Females DJ Workshop, offered by Grandmaster Ready D at a studio in Mowbray from Monday March 28 until Saturday April 2 in the afternoon, were counting beats, compiling sets, cueing tracks and and scratching on the turntable.
They were escorted by Lynn Phillips, from the Cape Flats Safety Forum.
Zaitoon Swartz, 14, from Beacon Valley, said the daily classes outside of Mitchell's Plain was a break from a tough life where she saw people being robbed and shot and often heard gunshots.
"I learned how to mix music and met other like-minded girls," she said.
This could be a new hobby for Zaitoon, who said she listened to Ready D on the radio and did not know the hard work and commitment that went into spinning tracks and playing the right music.
"I did not know much about DJing and there are not a lot of women DJs," said Tamia Carstens, 16, from Portland. "I was told about this course and it piqued my interest immediately."
Tamia, who dances with the Youth Development Academy, said she likes music because she likes dancing and now she has another way to enjoy music.
She is looking forward to trying out what she learned at the party, event or festival.
"It is fun and you could make a living from it. DJ Ready D made it very far. If you really have a passion for it. Go for it," said Tamia.
Ready D told Plainsman he gets involved with such projects because "it is the right thing to do".
He said sharing the skill of DJing was part of the tradition of hip hop culture. "We have fully embraced it throughout the years and also realised a need.
"We also realised that a lot of young people are facing many different challenges. Everybody loves music and for us, we just recognise that music can be a really powerful tool to help young people," he said.
Ready D thanked everyone who had a part in the workshop, including those who covered the costs of sound, venue hire, manpower and transport.
"We want people to know phenomenal things are taking place. There are so many young people who need change and need an ear to pay attention to them. We are working on more projects to give youth this opportunity and more," he said.
The youth were selected by various organisations in their community, who identified a need and a space for music.
Participants came from Plumstead, Woodstock, Northpine and Table Bay to learn more about music and add their unique sound to it.
DJ Ready D said the girls mixed and worked together to find common ground and solve problems.
"It was about building opportunities. Girls from different areas networking, working together and problem solving. It is needed across all spectrums of our community," he said.
Participant Hayden Stockenstroom, 12, from Plumstead, said she had seen an advertisement on Facebook.
She knew what a DJ was and had a small set-up at home but had been blown away during the course. "I knew the bare bones now I know more than that," she said.
Ngawethu Tikwayo, 19, from Woodstock, a student at Northlink College, in Panorama, said she had heard about the course from a friend.
"The way a DJ plays music makes me want to try it also. Learning to mix and scratch was mind blowing," she said.