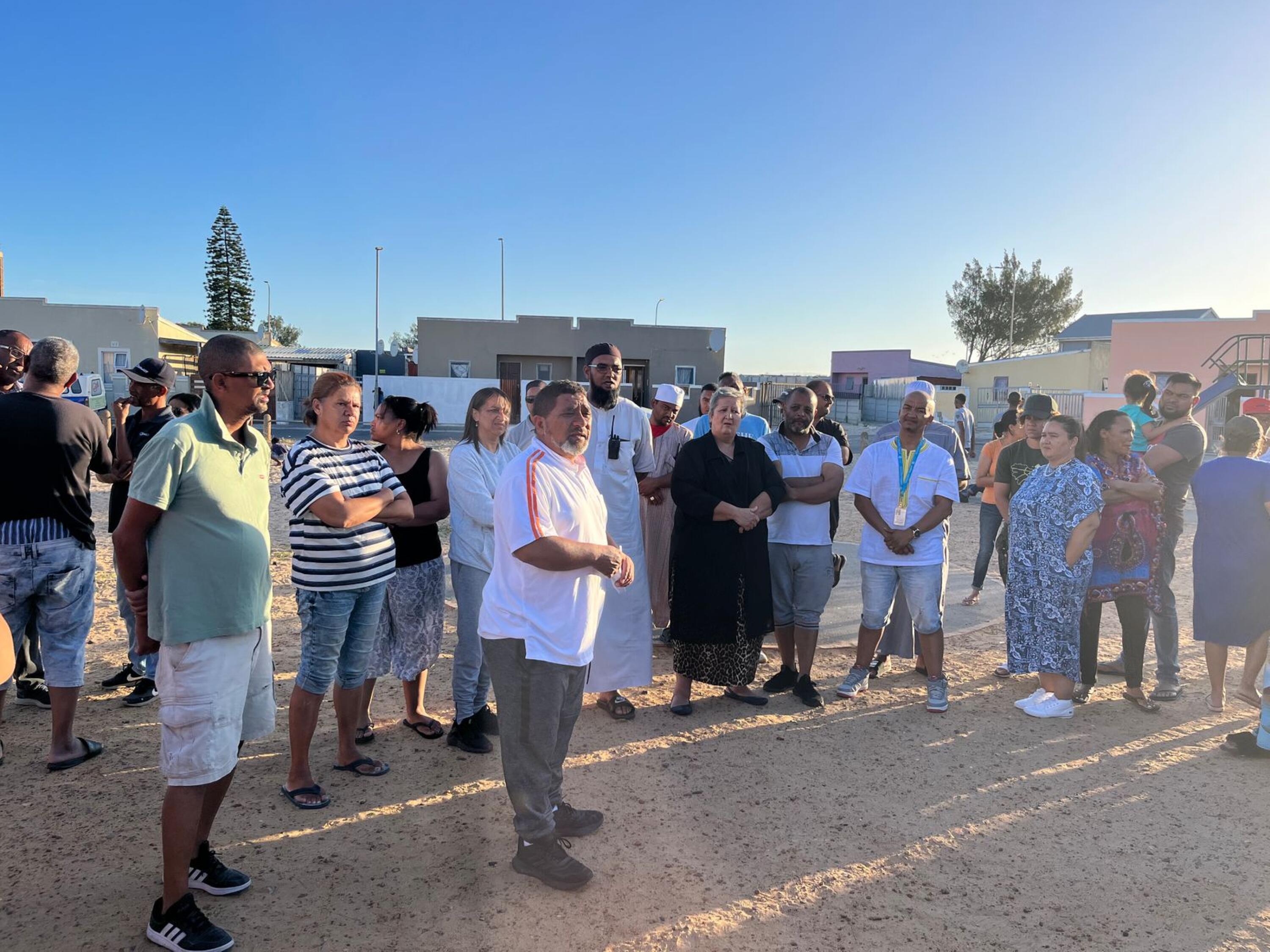 Morgen's Village residents want answers regarding their high water bills, title deeds and deductions on their electricity purchases.
These issues were raised during a public meeting at Cranberry Park on Tuesday January 31.
It was hosted by community activist Shahiem van Nelson, New Woodlands Ratepayers' Association chairman and Good political party councillor candidate, who was flanked by Suzette Little, national treasurer for the party and Cape Town Community Housing Company (CTCHC) development officer Clarence Human.
A resident, who did not want to be named but whose identity is known to the Plainsman, had recently paid up her house, after having moved in about 14 years ago.
She said: "Either you eat or you pay your water bill".
She said the last seven years were particularly tough, when she stopped working and could not make ends meet.
The woman, 39, lives with her daughter, 13, and her mother, 65.
She had battled to pay up to R700 a month to former landlord CTCHC and cover the municipal bill.
With the help of her daughter's father she was able to settle her debt with the company and is now waiting for her title deed, which she needs to have municipal arrears scrapped.
She said community activists like Beverley Baron-Chongo had encouraged her to pay what she could whether it was rent or municipal bills.
Mr Human said they would assist people who had consistently paid towards their rent.
He explained that they needed their title deed to apply to the City of Cape Town to have their municipal arrears scrapped.
"The company has already in the past helped so many people.
"All we require is for them to come forward, fill in the necessary paperwork and we can work with them," he said.
Another resident Safia Khan said her neighbours have been coming to her for assistance with their electricity receipts showing deductions for "debt recovery", where they are paying up to R50 for a unit of electricity.
"Ons is ma mens en ons almal sukkel. Ons kan nie kos koop om in die freezer te sit nie, maar daar is nie elektrisiteit om dit koud te hou nie," she said.
She said they were trying to help each other.
Another resident who refused to be named showed the Plainsman a receipt where her bought R20 electricity and had debt recovery of R17.80 and received a 1.3 kWh, a bit more than a unit of electricity.
"We are being taxed for being poor," he said.
Mr Van Nelson helped to set up an interim ratepayers committee and said that they would have an information "pop up" programme at the park on Friday February 10 at 6.30pm.
Siseko Mbandezi, mayoral committee member for finance, said the City needed to see whether the arrears were in the names of the property owners, who took transfer from the CTCHC or if the debt was still in the name of the company.
"Where properties are in the name of the beneficiaries, the property owners are receiving municipal invoices directly and should be paying their municipal accounts," he said.
The City urged affected unemployed residents or pensioners to visit their nearest municipal office to apply and register for available indigent support.
He said that if arrangements were not made with the City, or if warning notices were ignored, debt management actions would be followed.
Properties in Morgen's Village are owned by the Cape Town Community Housing Company (CTCHC), a private entity.
Where properties have been transferred into the names of beneficiaries, the City assisted those residents with debt write-offs and indigent benefits.
"The City will continue to help residents who are in need of assistance and urges the affected residents to approach us directly via email or by visiting their nearest walk in centre," he said.
In response to a Plainsman enquiry about the debt deduction on electricity purchases, Mr Mbandezi said they required the account details of the resident.
"It is likely that there is an outstanding balance on the account and debt management actions could be in place as per the City's debt management policies," he said.
Mr Mbandezi said was important to get the account details so that each case could be investigated and responded to accordingly with the facts.
The City also encouraged the resident to approach a municipal customer office for guidance and advice, and to enter into a payment arrangement.