Fifty indigenous trees were planted at the tree planting ceremony for the Pathways to Water Resilient South African cities (PaWS) project – a pilot project in the area.
The tree-planting took place at the stormwater detention pond in Rondevlei Park on Wednesday September 22.
Project committee co-ordinator, Ganief Nell, said they are working on making the area safe for residents, beautifying the area, maintaining the wetland life and creating a park space.
"There was water retention. There were also stormwater outlets that were affected by waste, we had to remove the waste to make sure the water kept flowing the way it was supposed to. We even discovered that leopard toads were found in the pond," said Mr Nell.
They built a sandbag wall where the trees were planted around it, he said.
The Future Water Institute at the University of Cape Town is working with the University of Copenhagen and the cities of Cape Town and Johannesburg on the research project that is funded by the Danish government, to see what can be done to make South African cities more resilient to droughts and floods, said Future Water's director, Dr Kirsty Carden.
The research project team are trying to see whether better use can be made of stormwater by infiltrating it into the ground in existing detention (flood control) ponds that have been suitably modified, so that it can later be extracted via boreholes, said Dr Carden. This has the additional benefit of reducing flood and pollution levels downstream.
The pond next to The Leadership College in Hyde Park, Rondevlei Park, was identified as a suitable pond for carrying out some simple experiments as to how this could be done, including the creation of an infiltration basin across a 90m contour near the pond inlets, as well as installing flow dissipators and litter traps at the inlets.
Basic landscaping is being included to allow for enhanced amenity and usability of the space. Construction activities are being carried out by a team of local residents, selected via the project committee, who are working together with a contractor who specialises in sandbag construction, UBU, said Dr Carden.
"We have a plan for this area that is currently being put together. We want to keep the wetlands growing, and want families to come and enjoy the space," said Mr Nell.
He said this is a pilot project, the first of its kind in Mitchell's Plain, and they expect some bird life to establish there.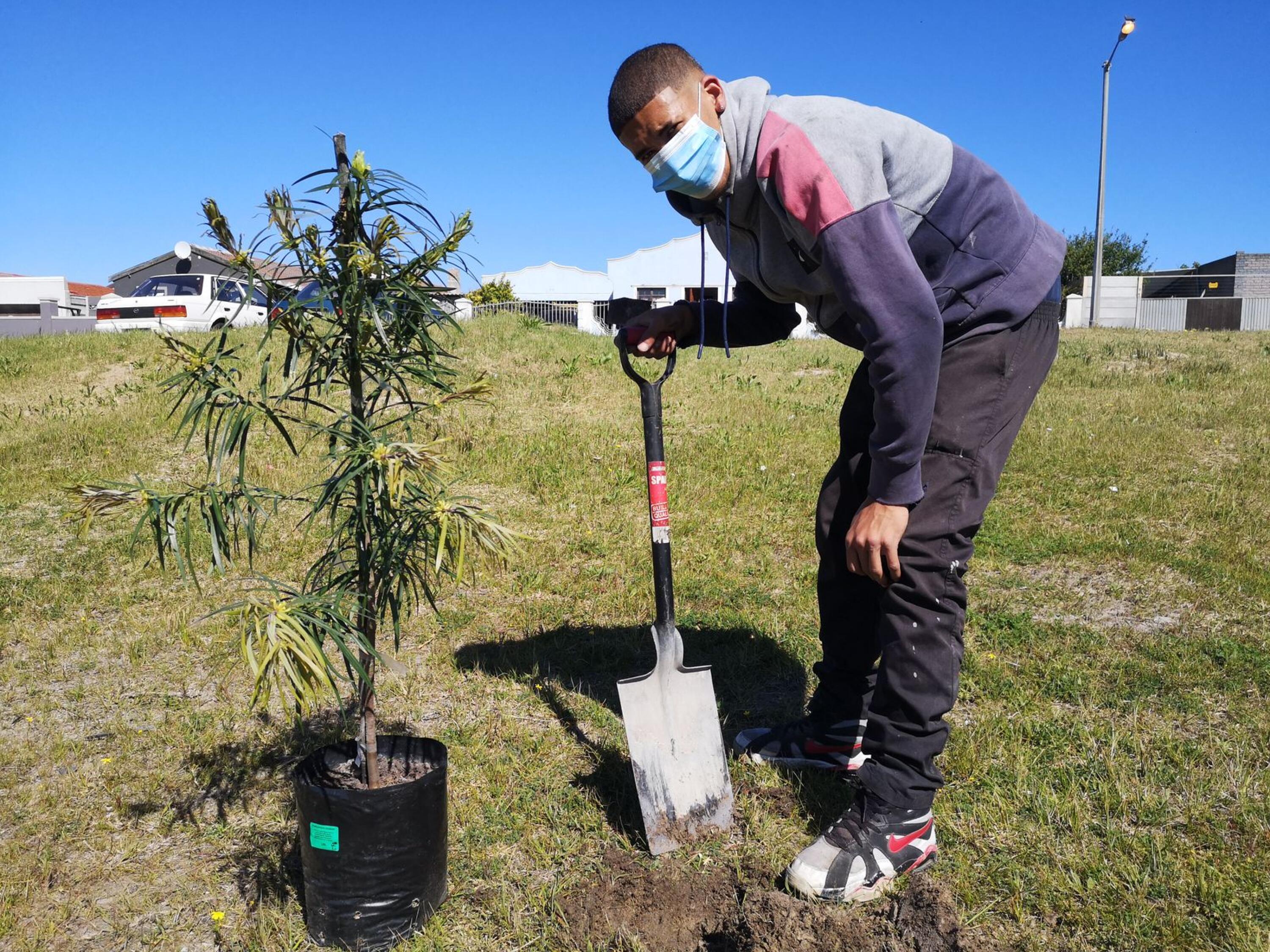 "This space should be a clean space, where everyone can take ownership of it. The community needs a space for education. The primary schools in the area helped with building the sandbag walls and cleaning the space," said Mr Nell.
The three-year research project also entails measuring flows and water quality into and out of the pond.
"We are also interested in investigating how local residents and other stakeholders view such an intervention – and what it would take to make it acceptable, desirable even, if similar interventions were to be rolled out across the city," said Dr Carden.
Founder of Seed 2 Harvest, Shaun Cairns, said they heard about this initiative and decided to partner with the Pathways to Water Resilience project by sponsoring and planting 50 indigenous trees assisting in beautifying the wetlands.
The Department of Agriculture's land-care unit, a partner of Seed 2 Harvest, assisted in sponsoring the trees.
"Seed 2 Harvest aims to bring food to the community one garden at a time. With food we need to contribute to beautifying the community. When the spaces are made green, it makes people feel good. We should continue to create the food forest and make spaces green," said Mr Cairns.
"We would like to encourage ecological stewardship within the communities. Get back to the balance with nature, creating outdoor classrooms, educational spaces and bringing everyone back to nature and start growing their own food and creating food forests in communities where there are common open spaces. Seed 2 Harvest has an organic garden starter kit that will assist individuals in starting their own food garden," said Mr Cairns.
Mr Cairns said the trees were planted with Seed 2 Harvest's water-saving-gel added to the hole of the tree. This is to save water, contributing towards water security.
Organisations should continue to partner with this project as they can't do this alone, he urged. "These are the stewards, we should come alongside them and help and green our open spaces, beautifying our communities," he said.
Ward 75 councillor Joan Woodman said this is a wonderful initiative.
"This project allows for job creation and also brings the community together, uplifting and beautifying the space. This is theirs and they will take care of it. I am proud of the team," said Ms Woodman.