The ten blind people, who graduated from an aromatherapy course at the Light and Healing Centre on Saturday, triumphed over both disability and the hardships thrown at them by the pandemic.
The graduates started their course at the Plumstead-based centre – a non-profit that trains the blind to become massage therapists and specialise in aromatherapy – at the end of 2019, not knowing at the time that Covid-19 would throw the world, and their training into disarray.
The guest speaker at the graduation ceremony, Sandra Dreyer, said she had been a sighted teacher for many years and had gradually lost her eyesight to macular degeneration. She prayed that she could work and not stay at home and be a housewife. She went for training at the Cape Town Society for the Blind and now trains others there.
Xoliswa Maseti, who was teased by Avril Hoepner, the centre's executive director, about arriving late for lessons, said she had to take three taxis from Khayelitsha to get to the centre. She would wave them down so that she could read the destination only to be asked, "Are you blind?".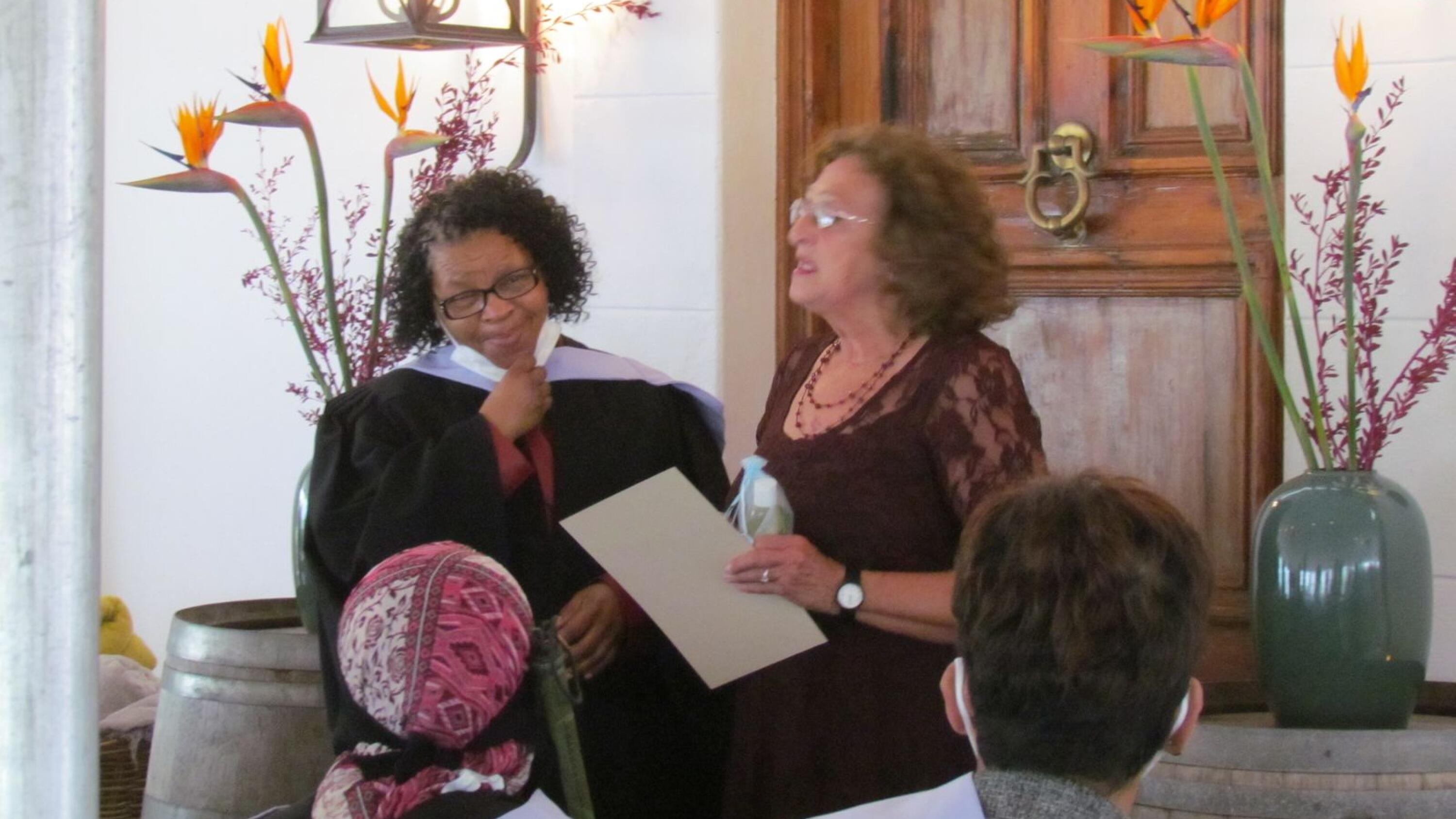 She refuses to use a white cane as she has some sight in her left eye. She needed a scribe to help write her tests, so she would have to wait for her daughter to return from work.
Gafsa Robertson, of Manenberg, said they not only learnt massage but also about the body. "Avril taught us enough that we should be doctors," she laughed.
Ms Robertson said Ms Hoepner also taught them not to have sympathy for clients but rather to feel empathy.
"We don't want people to feel sorry for us," she said. Ms Robertson said that as a Muslim she has been brought up not to touch anyone unless they were a blood relative. "Sometimes people want to feel our energy," she said, adding that she did not massage men.
Deborah Otto, of Heideveld, has been blind since she was 16. She said they had been through stormy times. "But we were bold and braved it," she said. During her time on the course, people around her would ask her about aromatherapy. She would tell them how it could help heal the soul. "It's not like a gadget that runs out of battery. This comes from inside us," she said.
Tracey Jeffrey, of Claremont, who was diagnosed with Usher's syndrome at 19, said the course had taught her to become independent and had given her a renewed sense of purpose and dignity.
Grant Baiman, of Mitchell's Plain, said he had done the course after having a massage at a yoga retreat. He did different courses before arriving at aromatherapy, and now he wants to build a future around it.
The graduation ceremony was held at The Homestead, next to the Light and Healing Centre, between Constantia Main and Barda roads in Plumstead. Call 021 761 9507, or email admin@lightandhealing.co.za for more information.