A powerful woman who will leave a mark on every heart she touched.
This is how deputy principal Springdale Primary, Edna Fritz, who passed away on Sunday July 17, will be remembered.
She leaves behind her children Erin and Ezra Fritz, 18, her mother Doreen Isaacs, her brother Mark Isaacs and sister Judith Rhodes.
Ms Fritz lived in Athlone and Manenberg before settling in Westridge, Mitchell's Plain.
She started her teaching career in the Northern Cape in 1993, before moving to Glendale High in 1994 and eventually starting at Springdale Primary School in Lentegeur on May 1 in 1995, where she remained for 27 years. In 2017 she became the head of her department and in 2018 she became deputy principal.
Her daughter Erin Fritz, 22, said her mother had been kind, selfless and resilient. She was a hard worker who never judged anyone around her and loved them unconditionally.
"This was carried out by her as a teacher. The majority of the students would call her a second mother. In her illness she would take them home and make sure they were safe. She always rooted for the underdog," she said.
"She taught me how to persevere. She never let her problems or circumstances define who she was. She was still trying while going through a difficult time. Many people acknowledged her strength," said Erin.
"The house is a bit empty. I know my mom would go to the ends of the earth for us. This is a big adjustment but we will miss her so much," she said.
At the school's memorial service, held on Thursday July 21, Springdale Primary principal, Daphne Browne, said Ms Fritz had been a "rare kind of teacher".
"She's been working very long, especially on the senior management team level. My right hand person, we completed each other. She was quiet yet strong," said Ms Browne.
A memorial held at Destiny Fellowship Church in Ottery on Wednesday July 20, was packed to capacity. Ms Fritz was very involved in the church.
"She listened deeply. She always had a respectful word of advice. She saw good in everything. She would make a positive out of a situation. She was my confidant. She would listen without judgement," Ms Browne added.
Ms Fritz's teacher's assistant, Nastatia Phillips, said Ms Fritz had treated her like a professional teacher.
"I was very scared when I started. I could hear a loud voice which sent shivers. To my surprise, the most beautiful smile welcomed me and it was a love story after that," she said.
"She was like a mother to me. We sat in her office, and we used to chat for hours but the bond we shared was amazing," she said.
Teacher Francis Johnson said Ms Fritz had been a God-fearing woman.
"In Hebrew her name means pleasure and that's what she was to us. I salute this brave, tenacious hero. She had a quiet and gentle spirit yet bold in spirit when she was teaching," she said.
In 2020, during the pandemic, Ms Fritz returned to school.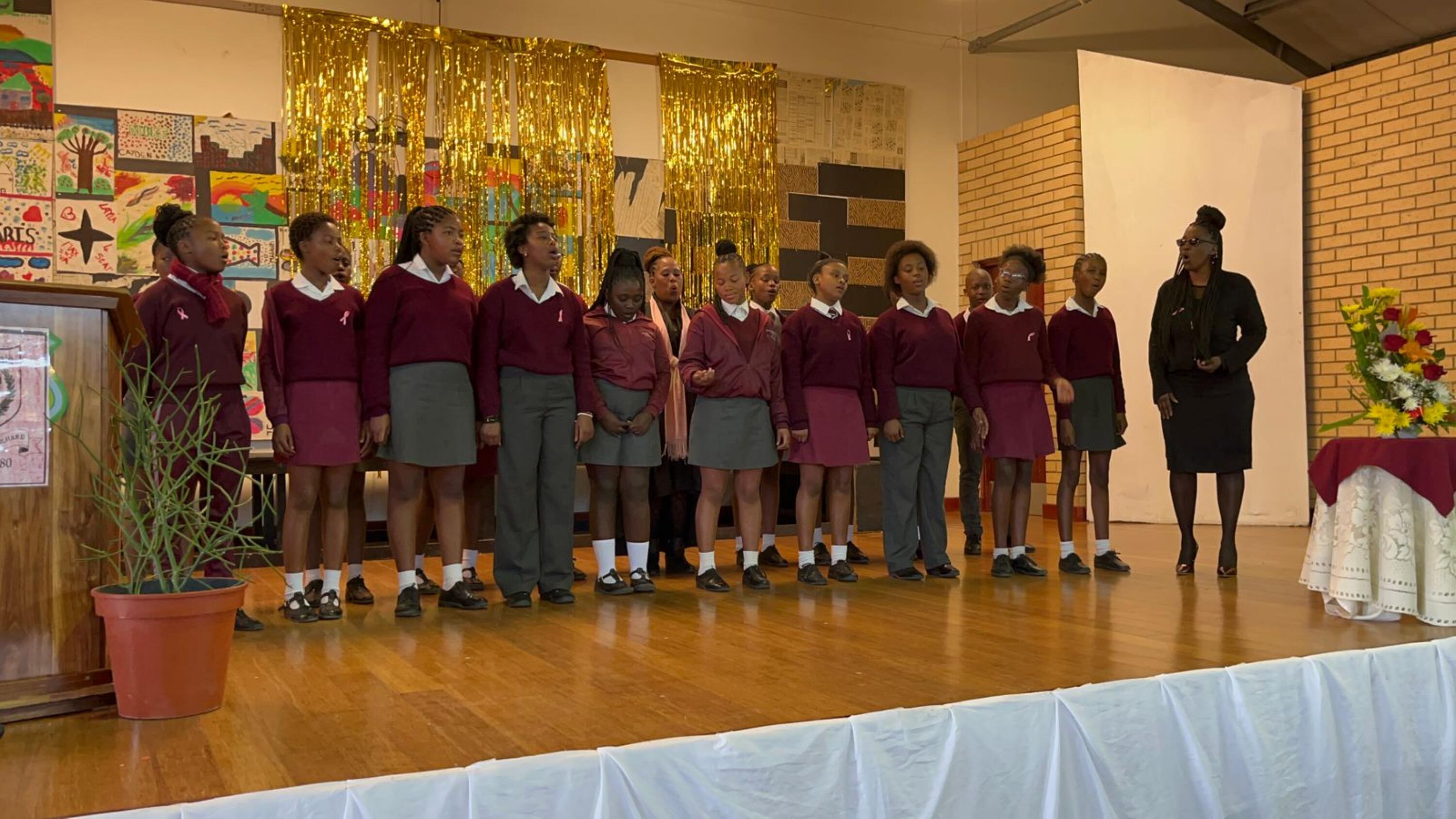 "She wanted to be in class with her pupils as teaching is who she was. It was her calling as she did it well. She had the school's interest at heart. We will miss her and we salute her for her journey," said Ms Johnson.
Former principal Leopoldt van der Rede said Ms Fritz had inspired him in many ways.
"Thank you to her family for sharing her with us. Real happiness comes from spending time with loved ones.
"She lived an exemplary life. She didn't compromise her values. This applied to her own children and pupils," he said.
"When she was absent it was because she was really sick. She was committed and dedicated to the task. Teaching was her passion. She did her job timeously and meticulously, time was nothing for her even in her sickness.
"She set the perfect example for us. I am a better person because of her," Mr Van Der Rede added.