A Tafelsig grandmother has sympathised with the family of a man, her grandson is accused of stabbing to death.
Ruth Saralina's grandson, charged with the murder of Eugene Jackson, 43, appeared in Mitchell's Plain magistrate's court on Friday July 15. He is still in custody.
She spoke to Mr Jackson's brother Jason in a park on AZ Berman Drive in Tafelsig, across from the crime scene, at an imbizo called for by Mitchell's Plain police station's visible policing head Colonel Jacobus Fredericks last Friday.
"I feel guilty because it is my grandchild," said Ms Saralina. "This pain is not gonna go away easily.
"He robbed the children of a father. I can't help it, I'm feeling responsible for it. I can't say sorry enough to the family."
Ms Saralina had just learned that Mr Jackson had five children, aged between 12 and 19.
"I'm going to him in Pollsmoor to look him in the face and ask him why," she said.
Ms Saralina said his mother, her daughter-in-law, worked day and night to clothe, keep a roof over her children's heads and feed her family.
"He made wrong choices and we have spoken to him. I've personally spoken to him.
"His mother put him there. But he thinks she is throwing him to the dogs… My mother doesn't about worry me. My mother does not love me. Then she takes him back because he is her child," she said.
Ms Saralina said her great-great-grandson, 2 would soon be asking where his father is.
Mr Jackson accepted Ms Saralina's condolences but said that justice should prevail.
His brother worked as a hawker to put food on the table and had been on his way home when he was robbed and stabbed.
Ms Saralina, also a Tafelsig West neighbourhood watch member, had given them details of the accused's whereabouts.
"As a family we want justice. God is in control," said Elizabeth Rautenbach, the aunt of Mr Jackson's wife, who was hospitalised Friday.
The family hosted a prayer meeting hours later.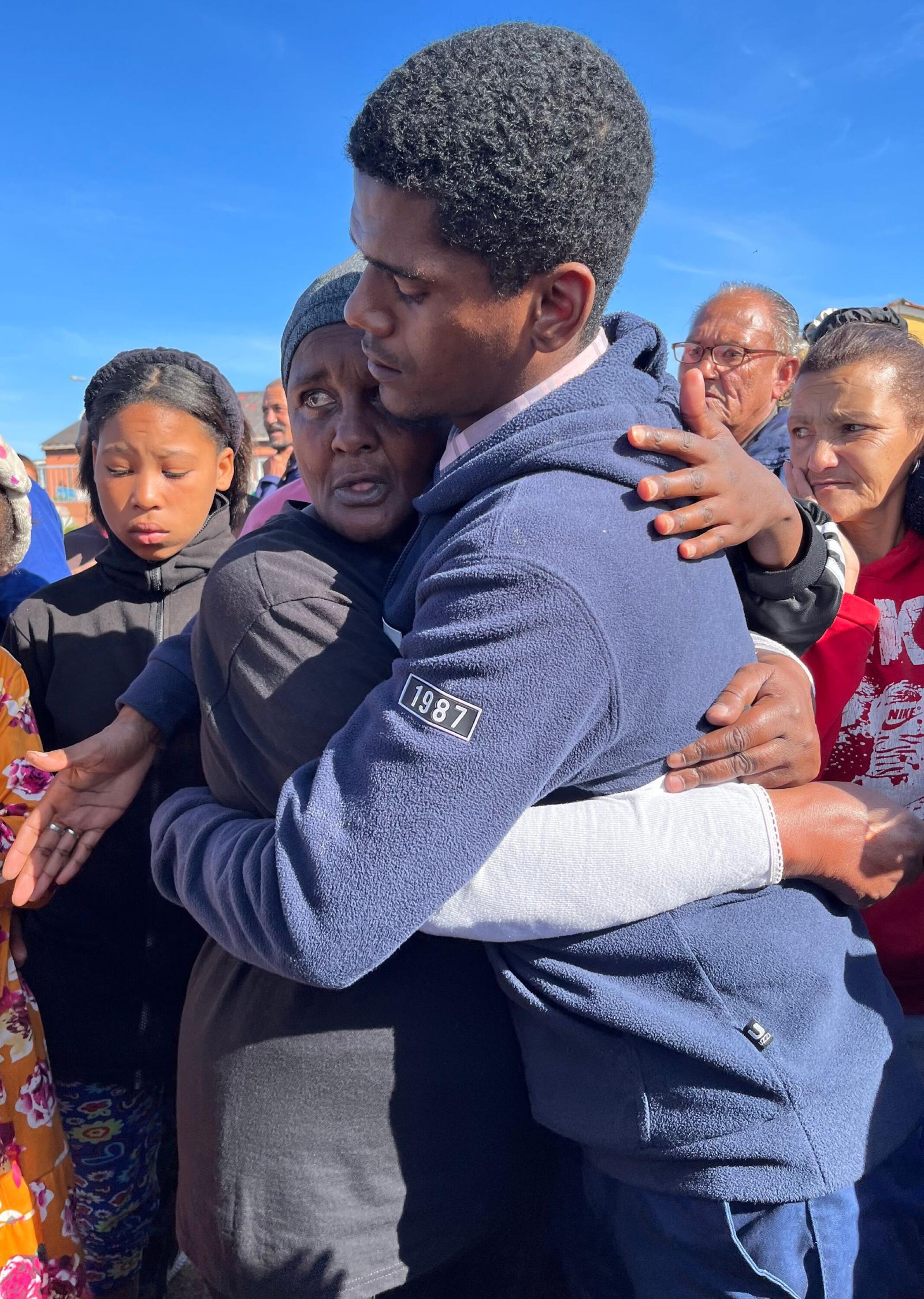 Mitchell's Plain police station spokeswoman Sergeant Zandi Langa said Mr Jackson had sustained multiple stab wounds to the chest.
She encouraged the community to be the ears and eyes of the police, to report happenings in and around their homes and to join the safety structures like the community police forum (CPF), street committees, block and neighbourhood watches.
John Jonkers, Tafelsig East neighbourhood watch chairman, said it was not easy being on the road trying to keep the community safe.
"Our hands are tied, we have to behave within the law.
"We can't confront or intimidate criminals. They have rights, sometimes more than us," he said.
Mr Jonkers said the community should mobilise and attempt to have a neighbourhood watch member in every second house.
"These days everything is about money and not how I can help my fellow human being. We work very hard and we don't get a cent," he said.
Vernon Fortune, chairman of Hyde Park neighbourhood watch, thanked the police for coming out. "We as the community must build a relationship with the police."
He said when they had load shedding during the early morning when it was still dark, he would call the police to enquire about the "blue light" patrols.
"I promise you when I go out then you will see the blue lights in the area.
"The big problem we have as a neighbourhood watch is mistrust," he said.
He challenged residents to solve the problems in their community by joining the neighbourhood watch.
"Be part of the solution. Police and law enforcement patrol all day every day, they respond when we call," he said.
Mr Fortune implored residents to work with the neighbourhood watch and send information to show more visibility.
"The most disappointing thing with the neighbourhood watch is that the majority of its membership is women."
He encouraged men to get involved and show the youth, who are enticed by gangsters, that they can keep their community safe.
"Fathers are not involved in the family and the community. Take up your rightful places," said Mr Fortune.
Colonel Fredericks reached out to the community and to tell the gangsters, criminals and "mischief makers" that their days were numbered.
He implored the community to trust each other and inform the police of any suspicious criminal activities.
"If you do not get any feedback from the police then contact me because you must be satisfied and feel safe when you report a crime," he said.
∎ Two men, aged 29, were shot dead and third injured during a shootout in Aquarius Street, Rocklands on Sunday July 17.
Warrant Officer Joseph Swartbooi said when the police arrived at the scene around 9.20pm the men were declared dead on the scene by medical personnel.
"The unknown suspects who fled the scene in an undisclosed direction are yet to be arrested. We have reason to believe that the motive for the attack is gang related," he said.
Mitchell's Plain police is investigating a case of murder and attempted murder.
Anyone with information is urged to call Crime Stop on 086 001 0111.