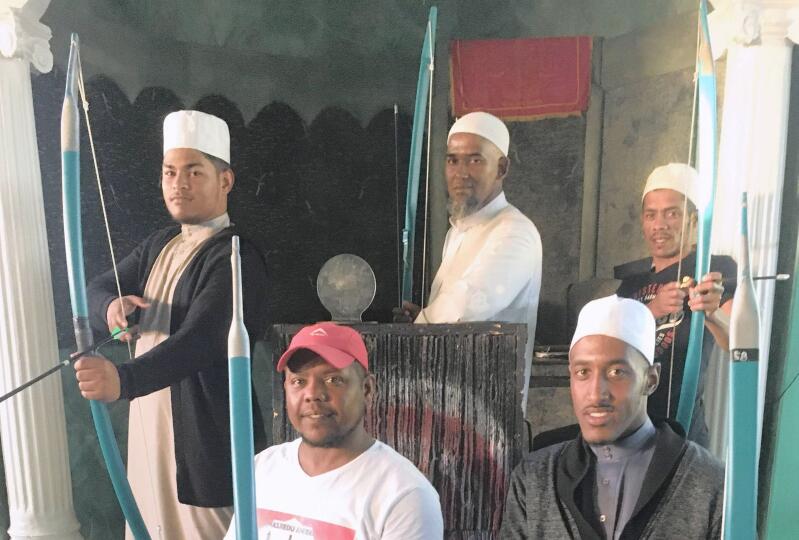 A fine display of their archery skills earned Tafelsig youth third place in a regional competition.
Masjied Amiena Archery Club junior members, aged between 8 and 12, competed against five other clubs in the World Masjid Association for Sunnah Sports (WMASS) Rafi' bin Khadij Masjid Archery Competition at Al Fursan Farm, in Philippi, on Saturday October 10.
Mutahier Jabaar, 8, Abdul Galeek Hartzenberg, 10, Toriq Hartzenberg, 12, Saaliegh Losper, 15, and Abdus-Shakoor Anthony, 15, participated in four events on the day, each displaying a different skill.
The Masjied Amiena imam, Maulana Moegamad Yusuf Abrahams, said the one-year-old club was started to encourage Prophet Muhammad's tradition and practice of archery, which would bring people closer to the mosque.
"In addition to this, members have learned to focus, be patient and gained confidence," he said.
Maulana Abrahams said it was community effort as a musalee (Muslim worshipper) made their bows and arrows, which would be quite costly if they had to buy them.
"Great emphasis is placed on safety and teaching participants technique," he said.
Maulana Abrahams said there was a great interest among young people in archery.
"They then want to learn the skill and can eventually become proficient in it," he said.
Coach Abubakr Jabaar volunteers his time every Saturday and when he has free time during the week.
He said they had gone into the competition without arrows and that they had had to borrow from other clubs.
"But this shows the brotherhood and the willingness to share the sport," he said.
The Imamat Council of Mitchell's Plain sent a letter to the archery club congratulating it on its achievement at the competition.
"This is a demonstration of what can be achieved through dedication and commitment coupled with effort and hard work.
"Masjied Amiena made us proud and placed the youth of Mitchell's Plain on the map in the archery area," read the letter signed by Maulana Sabrie Davids.
He said mosques should focus on the youth and create alternatives and promote attendance.
The aim of WMASS is to extend archery to all mosques.
For more information email wmass1439@gmail.com or visit their Facebook page Wmass1439.