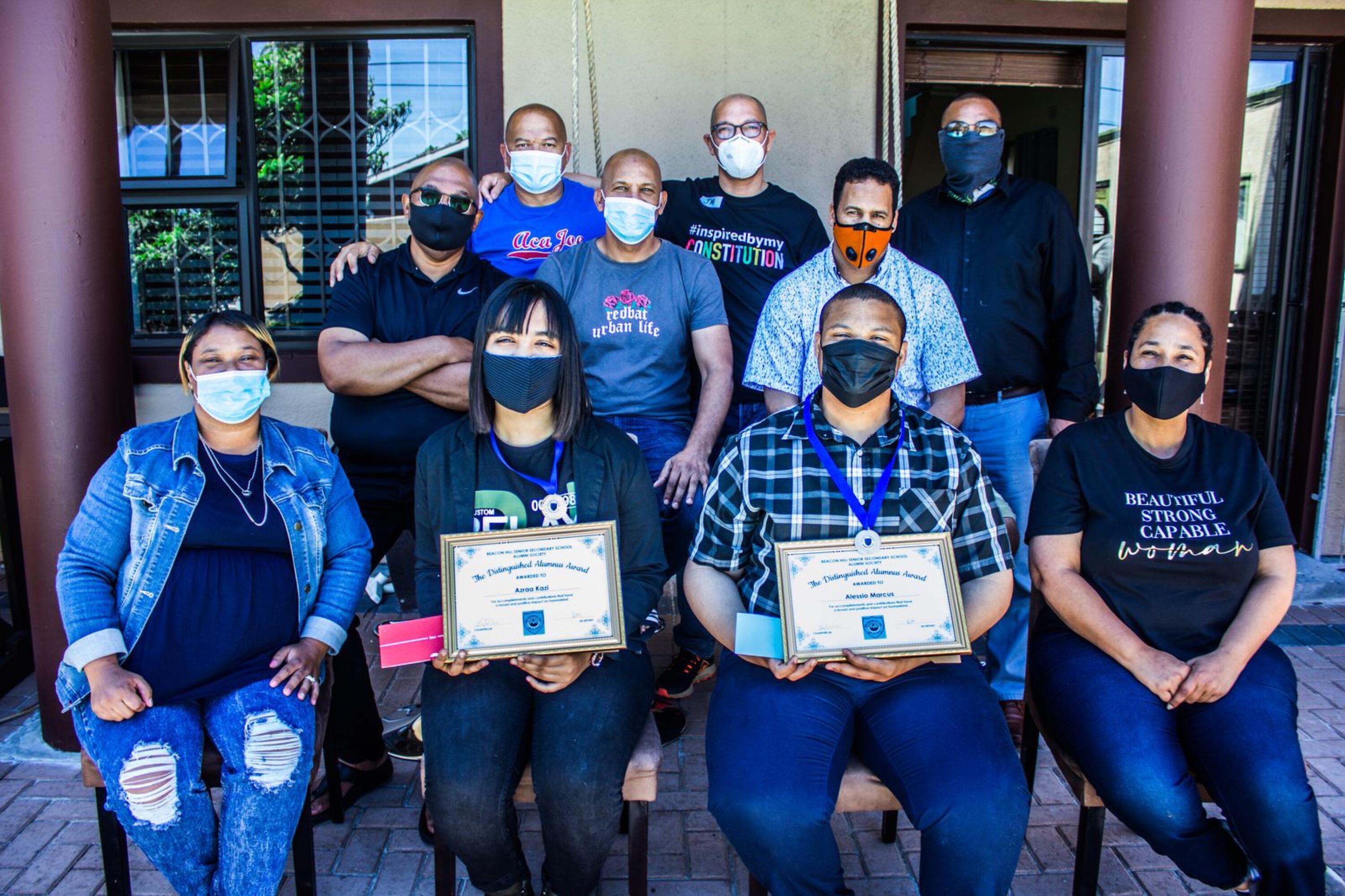 Former pupils of Beacon Hill High School have honoured two of the school's matric pupils for their outstanding achievements and urged other past pupils from Mitchell's Plain and surrounding areas to plough back into the schools which produced them.
The alumni group said former pupils had a critically important role to play by showing youth, who are currently at school, that their future can be bright if they are motivated and work hard to achieve their goals.
It was also important for former pupils to support the schools they attended, regardless of whether they still lived in Mitchell's Plain or not, to ensure the next generation are cared for and to recognise excellence.
The alumni should also teach the current and future generations about their history, the struggles and victories through the years, said Juven Rittles, alumnus, community activist and deputy director at the Integrity Management Unit of the National Prosecuting Authority (NPA).
The Beacon Hill High Alumni Society, launched in 2012 at a time when the school's matric results had plunged to an all-time low, worked alongside teachers by hosting extra classes over weekends and organised matric camps and raised funds to refurbish the school, he said.
The alumni society held its first Alumni Awards ceremony to honour and award two of the top pupils at Beacon Hill High School – head girl Azraa Kazi and head boy Alessio Marcus – on Saturday October 30. The event was held in Goodwood.
Mr Rittles said this is the first time that the Alumni Society had held awards ceremony in addition to the school's official valedictory and they planned to do so in future as well.
"We took a hard look at this and decided it is very important to recognise the achievements of these two pupils, to show that hard work pays off, and to show that in Azraa and Alessio we have examples of whom we are very proud.
"We are doing our best to support our school and we know that there are many former pupils who would love to contribute and to plough back. We want to appeal to all those who attended school in Mitchell's Plain to find a way to give back, to make our schools and our communities better places for those following in our footsteps," said Mr Rittles.
Alumnus, community activist and human resources and industrial relations specialist Ganief Nell said they took great pride in their school and wanted to ensure that they continued to play a positive role in shaping the school's legacy.
"When we became a Grade 12 pupil, we understood the importance of flying the school's flag high by producing the best results possible," he said.
"We kept ourselves focused, we'd help, respect and trust each other. We had that relationship, we were a family. It is very special to have an environment where you can produce your best – and we will continue do our best to contribute to providing that environment for all learners at the school that helped to make us successful adults," said Mr Nell.
Entrepreneur and business owner Mark Jackson said he became involved in the Mitchell's Plain Students Congress (MIPSCO) shortly after arriving at Beacon Hill in 1985 when high schools were leading the fight against the Apartheid government.
He became one of the leaders of Mipsco and fought for what he believed in, which landed him in jail, detained without trial and tortured in prison by the security police, he said.
"Our communities are in a very bad state. We should continue to give back and invest in our schools and the pupils. The stronger our youth is, the stronger our communities will become," said Mr Jackson.
Turning to Azraa and Alessio, he said: "The two of you have done very well in representing Beacon Hill and you are showing not only other schools in the Western Cape but across South Africa that our school has a very proud history of producing some of the best in the country. You are continuing to fly our flag high.
"We wanted to acknowledge these two pupils. We know that they will help keep Beacon Hill's name on the map as a place of greatness," he said.
Jeremy Michaels, a former Beacon Hill Student Representative Council (SRC) chairman and Mipsco executive member who is currently managing director of a Washington-based advisory firm and co-chairman of the Mitchell's Plain Bursary and Role Model Trust said it was important to recognise excellence.
"We must tell the school community and the world that the difficult circumstances within which young people are growing up in Mitchell's Plain, Philippi, Manenberg, Nyanga and all over the Cape Flats is a formidable challenge but that they are able to take advantage of the opportunities that a democratic South Africa holds for them, just like Azraa and Alessio are showing what is possible."
Mr Michaels recalled how the youth of Mitchell's Plain fought running battles with the Apartheid police and played a role in freeing Nelson Mandela and shaping the new South Africa.
"The immediate challenge and priority for us is to ensure that young people from our communities reach their full potential. That is what those struggles were about. Young people like Mark Jackson and others were tortured in prison, others like Ashley Kriel were killed and many, many others made huge sacrifices so that we can have freedom, including the freedom to be educated and reach our full potential.
"This period has been extremely difficult but we thank the alumni for doing what they are doing. The young people honored have come through the benches we once occupied," he said.
To Alessio and Azraa, Mr Michaels said: "We know you are going to fly. You are products of the community as all of us are. We came through the struggle and those were tough times. Your best is good enough, continue to study, we will be here for you as a collective," he said.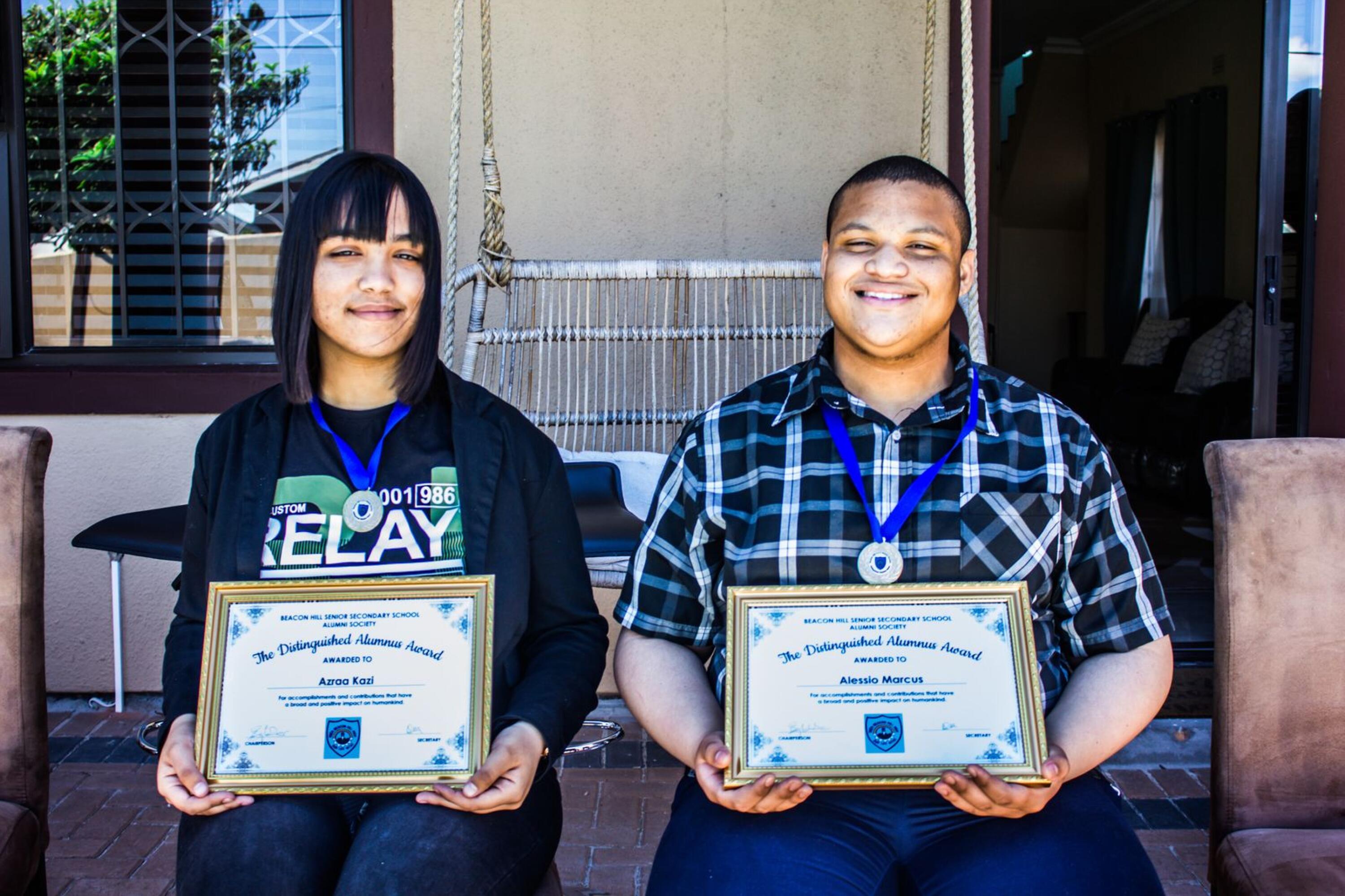 Alessio said he felt overwhelmed, blessed and appreciated. "We are making history as the first recipients of the award and we are grateful for it."
Alessio recently came third in the National Learner Award category for the National Teaching Award on Tuesday October 5 where teachers and pupils were honoured for their work.
Azraa said she felt appreciated and was "truly thankful for the gesture".
"I am going to study a Bachelor of Science at the University of Cape Town or a law degree at the University of the Western Cape. Matriculants should continue to work hard during this time, it will be a challenge without a good matric certificate. Do your best and never give up," she said.